Use this original evacuation WW2 KS2 short story from Pie Corbett as a model text for your class. Then work through the activities, created by Pie himself.
Evacuation WW2 KS2 story excerpt
I remember holding tightly onto all that I had: a brown paper bag with a hot potato and my gas mask. I clambered onto the train and squeezed into a seat by several of my school friends.
As the engine gradually began to move, pounding steam, I stared out of the window and saw Ma in the crowd, waving. I pressed my face against the cold glass and watched as the platform diminished until Birmingham, my old life and my mother had gone.
"I hope you're OK, Dad," I whispered. It had been weeks since he'd left and we still hadn't heard.
---
Download includes
Full PDF of the story and activities
The story as a PowerPoint and as a PDF
---
More Pie Corbett resources
Browse a wide range of Pie Corbett KS2 stories and activity ideas.
---
Pie Corbett is an English educational trainer, writer, author and poet who has written over 200 books. He is also known for promoting creative approaches in the classroom. He has experience as a teacher, headteacher and Ofsted inspector. Follow him on Twitter at @PieCorbett.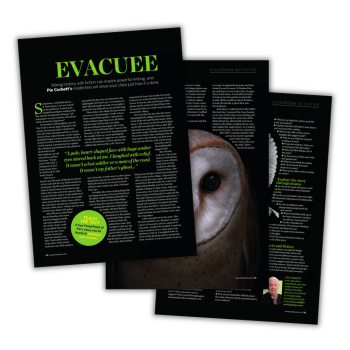 DOWNLOAD A FREE RESOURCE!
Evacuation WW2 KS2 – Pie Corbett 'Evacuee' story