Now that the 2019 Ofsted framework has had a few years to settle, Pearson project manager Eylan Ezekiel has identified 7 key questions that school leaders should be asking when reviewing their curriculum design.
In this free download, Eylan lays out each of the seven questions and discusses thinking points around each one.
The questions will help you to consider:
Outcomes for pupils
Staff buy-in
Subject knowledge
Cultural capital
Progress data
Learning retention
Watch two Pearson product managers talk about how schools approach curriculum design.
Get more help and advice about the Ofsted inspection framework here.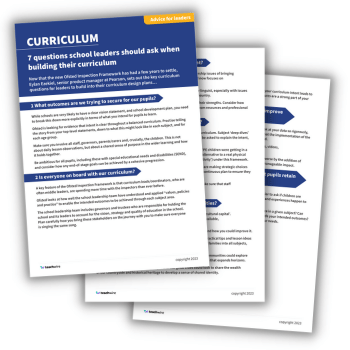 DOWNLOAD A FREE RESOURCE!
Ofsted framework – 7 key curriculum questions for SLT