Year 6 'animals including humans' worksheet and answer sheet, featuring eight multiple-part questions
This Year 6 science worksheet focuses on animals including humans. It features eight multiple-part questions for children to answer. The download also contains an answer sheet to make marking easy.
Year 6 science questions
The questions on this worksheet cover topics including:
Healthy diet
Healthy lifestyle
Problems affecting smokers
Drinking alcohol
The heart
Pupils will also need to:
Identify parts of the circulatory system and write brief descriptions
Explain how smoking affects smokers and passive smokers
Label parts of the digestive system
---
This worksheet is a sample from Sigma Science, a website providing you with everything you need to teach and assess primary science at KS1 and KS2.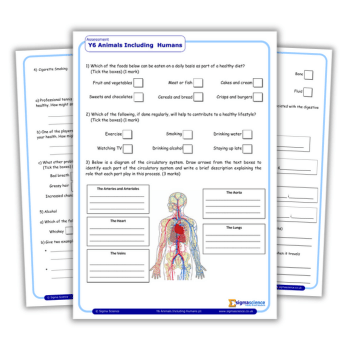 DOWNLOAD A FREE RESOURCE!
Year 6 science – Animals including humans assessment worksheet with answers