Lesson plan template Word Doc
This is a useful lesson plan template to help you remember everything you need when planning for an observation. It's suitable for any year group in primary, and adaptable for secondary.
On the document you'll find helpful tips and higher-level thinking questions to help structure the lesson and ensure that everyone makes progress.
Observation lesson plan
The template has space for you to include:
Key vocabulary
Key questions

What are we learning today?
How does this link to previous learning
What could this mean? Why?
Why do you think this happened?
Who would like to disagree with…?
What if…?
What do you notice?
When might we…?

Key discussion prompts

Prove to me that you're correct
Explain to me what's difficult today and how you're overcoming this
Show me your level of challenge
Tell me why you corrected that

Cross-curricular links
EAL/SEN/pupil premium
TA's role during input, main activities and plenary
Lesson context (previous and future lessons, place in sequence)
Opportunities for individual, paired and group work
AFL opportunities
Focus of observation
Learning objective
Learning outcome
Starter, main activity, challenges, plenary
Evaluation
Links with homework
Teachallenjoy is an English lead and resource creator who has been teaching for eight years. You can find her resources on her TES page Teachallenjoy.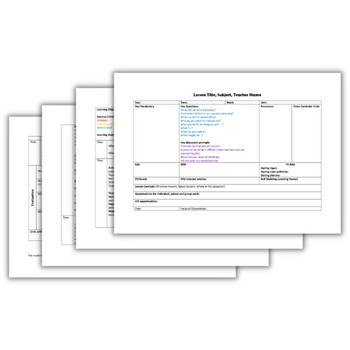 DOWNLOAD A FREE RESOURCE!
Observation lesson plan – Template for primary