A kitten might be cute, a rabbit cuddly, but they're both damp squibs when it comes to igniting children's story writing, compared to hatching a pet dragon, anyway…
Invent, draw and label your own dragons, write non-chronological reports and create spider diagrams of what a dragon needs to survive.
The Dragon Snatcher by MP Robertson has everything you need to help children write a fantasy adventure story. In combination with The Egg – the first story in this fabulous series – it opens up all kinds of opportunities to link with science, history and art as part of a project on Castles and Dragons.
What better way to spend half a term?
At the start of The Egg, our hero George finds an enormous egg under his mother's favourite chicken. Having carefully helped it to hatch, he becomes the proud 'mother' of a baby dragon, which he has to train in all sorts of 'dragony' ways – including how to distress a damsel.
Eventually, however, George begins to realise that his dragon needs a family of his own, and at the end of the book we leave him feeling rather sad.
Happily, at the start of The Dragon Snatcher, George is reunited with his beloved friend and taken on an important mission to defeat the Dragon Snatcher (an evil, dragon-egg collecting wizard).
Finding a way into the villain's castle, he discovers rows and rows of frost-covered dragon eggs and overhears the wizard's plan: he is searching for the final egg that will complete his collection.
Our brave duo pursue the wizard over the icy mountain tops and use a 'secret weapon', George's trusty blanket, to rescue the egg. In the end, good triumphs over evil – the wizard's spell is broken and the frozen dragon eggs start to hatch.
You could use the two stories in a multitude of ways, but this book topic provides one route you might follow to plan your own journey.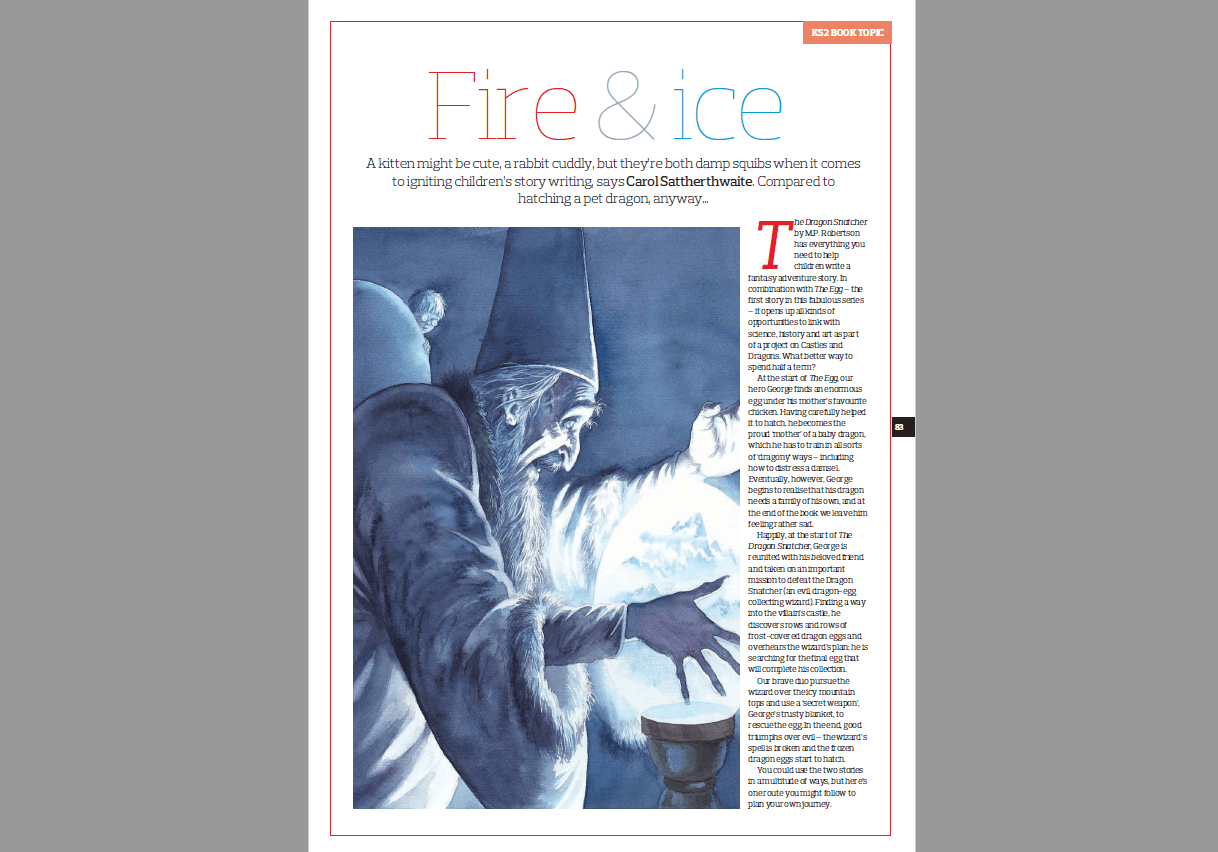 DOWNLOAD A FREE RESOURCE!
KS2 Book Topic – Mythology, Folktales and Creative Writing with the Dragon Snatcher