This formal letter template KS2 download is a valuable resource for students who are learning how to write formal letters.
The template is designed as a Word document, making it easy for you to download and use it on any device that has Microsoft Word installed.
Clear framework
This letter template KS2 example provides your students with a clear and structured framework for writing formal letters. The template works whether you're writing a letter of complaint, a request for help or something else.
The template includes space for:
Sender's name and address
Date
Contact details
Recipient's name and address
Greeting
Opening paragraph
Main body
Closing statement
Sign off and signature
The body of the letter is divided into paragraphs, with each paragraph addressing a specific point or topic.
Using a formal letter writing template can help Key Stage 2 students to develop their writing skills. They'll gain confidence in their ability to write formal letters.
The template provides a clear structure that can help pupils to organise their thoughts and ideas. It also and ensures that they cover all the necessary information in their letter.
It will also help them to develop their language skills and learn how to use formal language appropriately.
Write your own letter
Use the formal letter writing template as a teaching resource in the classroom by providing students with a printed copy of the template. Alternatively, share the document electronically with students so that they can download it and use it on their own devices.
You can also use the template to demonstrate how to write a formal letter. You can then provide feedback and support to students as they use the template to write their own letters.
For the price of a 2nd class stamp, why not give children's writing real purpose by posting the letter to its recipient?
Browse more formal and informal letter writing resources.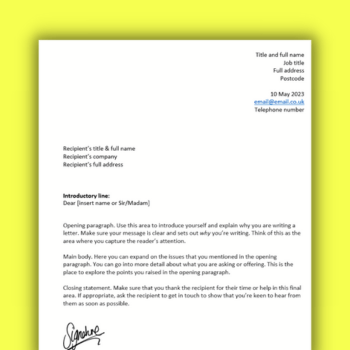 DOWNLOAD A FREE RESOURCE!
Letter template KS2 – Editable example of a formal letter