2 x PDF lesson worksheets; 1 x PowerPoint presentation; 1 x medium-term plan
In this Anglo-Saxons KS2 unit, children will explore how the Anglo-Saxons lived their lives and how this had an impact on Britain then and now.
We often overlook the Anglo-Saxons in the curriculum, focusing on their far more exciting contemporaries – the Vikings. However, the Anglo-Saxons had a fundamental impact on the culture of Western Europe and the fledging Britain.
In this unit, pupils will practise using a range of sources, creating maps, ordering timelines and drawing conclusions from their research. 
You could pair this unit with a unit on the Vikings – use the learning objectives and general structure to create your own complementary Viking unit.  
Anglo-Saxons KS2 learning objectives
Place the Anglo-Saxon period on a timeline and understand its location in the broader context of history
Describe the origins of the Anglo-Saxons and understand their migration to Britain
Explain the social hierarchy of Anglo-Saxon society
Distinguish the types of dwellings the Anglo-Saxons lived in and why
Identify the deities and belief systems of the Anglo-Saxons
Identify the enduring contributions of the Anglo-Saxons to Britain and the wider world
---
Matthew Lane is an author and teacher from Norfolk. His book Wayfinder: leading curriculum vision into reality is out now.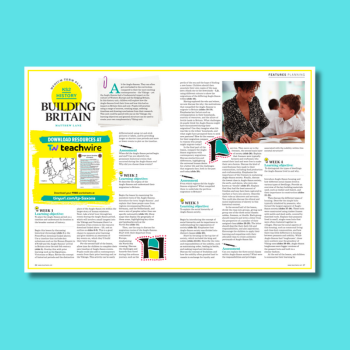 DOWNLOAD A FREE RESOURCE!
Anglo-Saxons KS2 – History medium-term plan