Use these Harry Potter assembly resources to conjure up a little Hogwarts magic at school. This download contains a teacher's script to follow plus all the other resources you need.
This Harry Potter assembly plan, aimed at KS2, contains:
Full assembly plan
PowerPoint presentation
Three resource PDFs: a cover sheet, teacher's guide/script and courage cards
Start the Harry Potter assembly
During the perilous contest of the Triwizard Tournament, pupils at Hogwarts face challenges that require true courage. As the pupils walk into your assembly space, establish a suspenseful atmosphere by playing The Goblet of Fire music by Patrick Doyle.
Display the PowerPoint page (included in download) featuring the first part of the Dumbledore quote:
"Dark and difficult times lie ahead. Soon we must face the choice between what is right and what is easy"

Once the pupils are seated, ask for three volunteers. Ask two of them to lay out cones or similar obstacles in front of the third. Now give the third pupil a blindfold to wear. Spin the pupil around and then tell them to walk forwards while blindfolded, trying to avoid the obstacles.

Without scaring the pupil too much, stress the potential dangers such as tripping and falling. Stop the pupil after they have taken one or two tentative steps with their arms outstretched.
Take off the blindfold and encourage the volunteer to explain to the others how they are feeling about this difficult challenge. Can any of the pupils suggest a way to make it easier?
Guide the children towards the idea of the two other volunteers directing the blindfolded pupil, using spoken instructions. Supervise a successful trust walk through the obstacles.
Sarah Watkins has taught every year group and was previously head of school. She is an SLE (English) and currently teaches Reception. Browse more ideas for teaching with Harry Potter.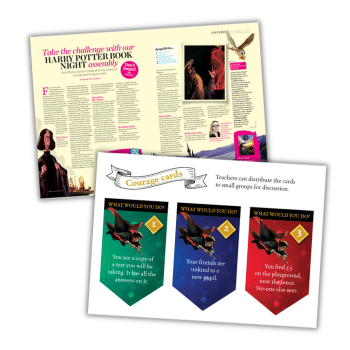 DOWNLOAD A FREE RESOURCE!
Harry Potter assembly – Resources for KS2