PDF role model cards, activity packs and book extract
Help engage girls in STEM subjects, explore inspirational women in STEM role models and create your own STEM hero with these free resources.
Around the world, more and more women are following their dreams. This resource highlights three young WISE1 professionals who avoided stereotypes and found their place in STEM careers.
As well as adding a new dynamic to the workplace, these women also act as inspirational role models for younger generations.
These young women demonstrate how their natural strengths and interests guided them to have successful careers in STEM. This will encourage children to keep an open mind about what they want to become in the future.
Within the primary classroom, there are many ways to encourage both boys and girls in STEM. Once you start to remove the barriers, you'll soon notice there is no distinction between which children are captivated and want to learn more. It's almost always everybody!
QuestFriendz
QuestFriendz is a children's book publisher with a mission to inspire a lifelong love of STEM learning through interactive storytelling.
Its SuperQuesters series offers a unique and engaging approach that embeds STEM concepts with books, resources, lesson guides and classroom activities. These are suitable for using at both home and school.
How to use the resources
Read about each of the role model's STEM careers on the QuestFriends website. Help the children to understand what each job means and involves.
Read each role model card in turn with the children. Discover whether there are any similarities between the role models' favourite subjects and theirs. Discuss how these link to STEM.
Share the role models' STEM superpowers. Again, make sure the children understand each one. You might discuss how these superpowers help them in their careers and whether the children have a similar STEM superpower. Can they think of a time they had to use that STEM superpower?
If you have time, or as an extra activity, encourage the children to learn more about each role model.
Then it's the children's turn to complete a role model card. Encourage them to think of their own STEM superhero. This can be from daily life, the past or via an experience, such as meeting a doctor or nurse in hospital. Encourage them to think and write down their name, their career and their STEM superpowers. If children need support, you could list possible superpowers for them to choose from.
More ideas
Share the extract of the story SuperQuesters: The Case of the Missing Memory (included in this download). This book has been shortlisted in the STEM category of The Week Junior Book Award 2023.
Read the story so far and discuss the Quest. Then fill out sheet seven from the SuperQuesters activity pack (included in this download).
Discuss the characters from the story and their STEM cards. Then encourage the children to share their own dreams for the future including their superpowers, strengths and special STEM skills.
Allow time for children to complete the activity sheet, including drawing a picture of their future self. Alternatively they can create their own fictional STEM character.
If you're looking for additional girls in STEM learning activities for the classroom or at home, there's an extra SuperQuesters activity pack included in this download.
---
1 WISE is a community interest company that delivers women-centred equality, diversity and inclusion solutions for the STEM sectors. QuestFriendz has partnered with WISE and WISE Young Professionals' Board to ensure its adventure stories and STEM learning outcomes benefit from their expertise.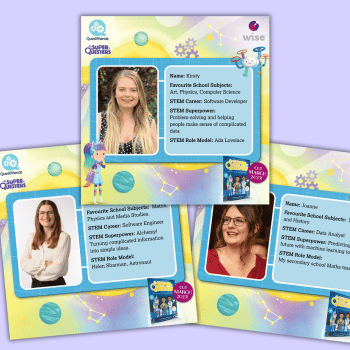 DOWNLOAD A FREE RESOURCE!
Girls in STEM – Role model resources