PDF medium term plan, worksheets, PowerPoints and teaching notes
In this six-week series of STEM education lessons, pupils will learn about six simple machines and how they transfer force from one place to another.
They will then carry out an investigation into how much force it takes to move a load up an inclined plane and build their own simple pulley, mini catapult and toy car.
To save you time, we've provided everything you'll need to follow the plan, including worksheets and PowerPoints. Raid your cupboard for a few extra resources such as paper cups, string and paperclips.
Curriculum links
Understand that machines transfer force from one place to another
Identify uses for six simple machines
Build and investigate inclined planes
Use the terms 'load' and 'force'
Build and investigate fixed pulleys and systems of pulleys
Explore how pulleys change the direction of a force and make lifting easier
Investigate levers and fulcrums
Identify and compare machines that are powered by the wheel turning or the axle turning
Use knowledge of simple machines to design a compound machine
This download contains
Full PDF medium term plan
Worksheets
PowerPoints
Teaching notes
---
Laura Cross is a former primary teacher. She set up Inventors & Makers. in 2019 and runs workshops and classes focusing on STEM, design and 21st-century skills. Follow Laura on Twitter at @inventorsm.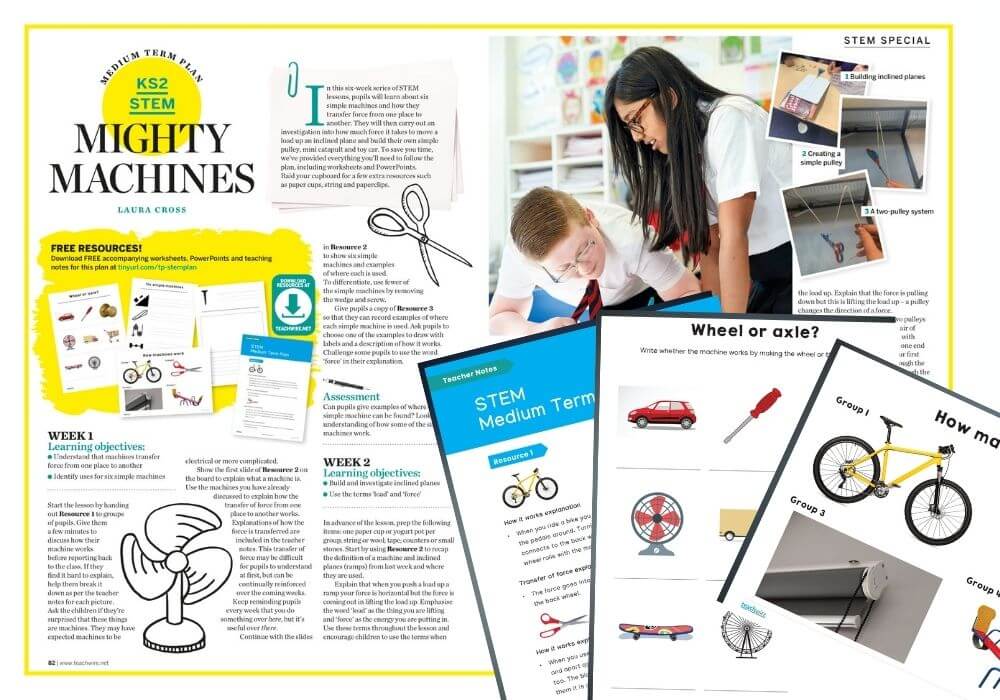 DOWNLOAD A FREE RESOURCE!
Forces KS2 – Simple Machines Stem Activities KS2