In the Philosopher's Stone, Harry Potter receives news that changes his life. He is being summoned to attend Hogwarts School of Witchcraft and Wizardry.
He's astonished to learn that his deceased parents were both wizards. They died trying to protect infant Harry from a Dark wizard named Voldemort.
Crossing genres including fantasy, thriller and mystery, this story explores universal human values, longings and choices. It is at turns exhilarating, humorous and sad.
Discussion points
Inside this resource pack you'll find ten discussion points about the book – themed around understanding the text.
There are also five in-depth discussion points surrounding:
Real and parallel worlds
Character names
Friendships
Power
Quidditch
Philosopher's Stone project for schools
Use the ideas in this pack to make a short class newspaper or newssheet about events in Harry Potter and the Philosopher's Stone. Children will need to summarise and report episodes from the book in a journalistic style. They'll also practise their editing and proofreading skills.
Stress the need for an attention-grabbing headline, the tone of voice that is suitable for the audience, and the need for impartiality.
More activity ideas
Make a magic wand
Design a broomstick
Read as a group
Compose a school song
Visit the Bloomsbury website for more Harry Potter discussion guides and reward certificates. Browse more ideas for teaching with Harry Potter.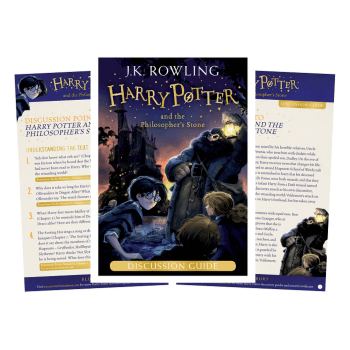 DOWNLOAD A FREE RESOURCE!
Philosopher's Stone – Harry Potter 1 discussion guide and activities