Improve pupils' motor skills and encourage careful colouring with these lovely Diwali colouring pages. These engaging activities not only foster creativity but also provide an opportunity to learn more about the vibrant festival of Diwali.
These themed images can be printed out and given out to children in class or at breaktime as you learn all about Diwali.
Children will be delighted to get their hands on these captivating colouring pages, depicting traditional Diwali elements.
Diwali colouring pages
Keep children busy with these fun colouring sheets. There are six lovely colouring designs to choose from, including candles, lanterns, and a Rangoli design. These diverse choices allow students to explore their artistic abilities and immerse themselves in the essence of Diwali.
The Diwali colouring pages in this mini colouring book feature simple outlines that encourage beautiful colouring. Younger students can develop their fine motor skills. Meanwhile, older ones can practice precision and attention to detail as they fill these pages with brilliant hues.
The designs, including children celebrating Diwali, make a great craft activity when you have ten minutes to spare during your school day. Engage your students in a hands-on, interactive experience, and witness their excitement as they bring these illustrations to life.
Send this collection of pictures home with children alongside a range of other teaching resources. Encourage parental involvement in their child's learning journey by sharing these wonderful colouring pages. This will help you to reinforce the connection between school and home.
Mindfulness
Alternatively, do this cute colouring activity as a calm, mindfulness activity in school. Incorporate moments of tranquility and relaxation into your classroom routine. This allows students to unwind and express themselves through art and colours.
By integrating these Diwali colouring pages into your curriculum, you can instill:
cultural awareness
creativity
a sense of celebration among your students
Embrace the joy of Diwali and spread the festive spirit with these delightful colouring activities. Happy Diwali!
Browse more Diwali activities for schools.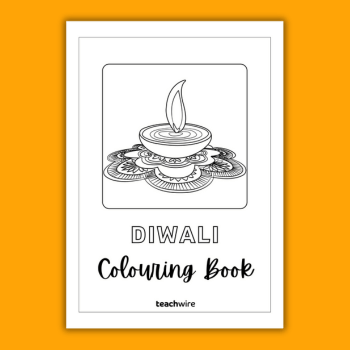 DOWNLOAD A FREE RESOURCE!
Diwali colouring pages – Printable sheets for schools