In the Chamber of Secrets, Harry Potter hears a sinister voice in the corridors. Meanwhile students, especially those with Muggle blood, are being attacked.
A mysterious diary, tales about past troubles at Hogwarts involving Hagrid and another student named Tom Riddle, a giant spider in the Forbidden Forest, and the disappearance of Ron's younger sister Ginny all lead to a stunning climax.
Discussion points
Inside this resource pack you'll find ten discussion points about the book – themed around understanding the text.
There are also four in-depth discussion points surrounding:
New characters
Decision-making
Legendary creatures
Secrets
Chamber of Secrets project for schools
Use the ideas in this pack to learn about the power of wordplay and invented language in reading and writing. Pupils will practise spelling and defining words and will develop a better awareness of the creative power of language in storytelling.
The first activity involves children choosing five real but uncommon words from Harry Potter and the Chamber of Secrets and spell and write a short real-world definition for each. For example:
petrified
mandrake
phoenix
basilisk
heir
More activity ideas
Guess the character
Enchanted objects
Draw a basilisk
Transform yourself
Visit the Bloomsbury website for more Harry Potter discussion guides and reward certificates. Browse more ideas for teaching with Harry Potter.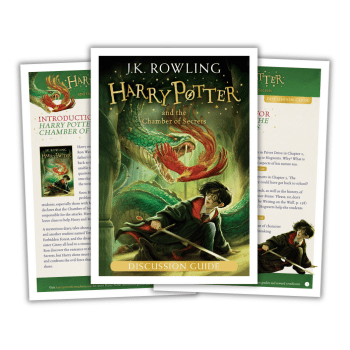 DOWNLOAD A FREE RESOURCE!
Chamber of Secrets – Harry Potter 2 discussion guide and activities