This World War 2 poetry KS2 resource pack, created with Bletchley Park, explores poetry and WWII history, covering parts of speech, patterns and codes.
Use it to develop student knowledge and skills in English, with cross-curricular links to history and mathematics.
World War 2 poetry KS2
The Poetry Society and Bletchley Park have compiled a suggested series of activities to enhance students' understanding of poetry techniques, historical World War Two events and creative skills such as risk taking and collaboration.
Activity example
Writing a poem is a bit like inventing your own code. People reading your poem need to work out for themselves what they think it means.
For this exercise each young writer will write an eight line poem (which could consist of two verses, of four lines each) aiming to use as many new words as possible.
They can use the definitions and ideas you've already decided on as a group, or go their own way. Encourage your students to place the new words prominently in their poem, grouping them together in places for effect.
Encourage the use of echoing sounds and patterns, alliteration and repetition.
Find out further information about each organisation at poetrysociety.org.uk and bletchleypark.org.uk. The Poetry Society is one of Britain's most dynamic arts organisations, representing British poetry both nationally and internationally. Browse more World War 2 KS2 resources.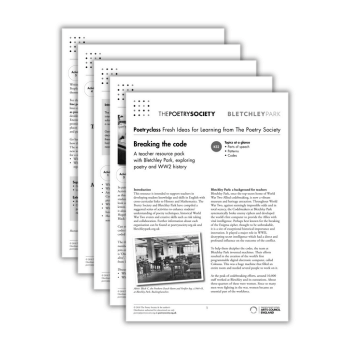 DOWNLOAD A FREE RESOURCE!
World War 2 poetry KS2 – Bletchley Park pack