The Order of the Phoenix begins at the end of summer when Harry Potter is forced to conjure his Patronus outside of school to protect himself and his cousin Dudley from Dementors.
It concludes with Harry and members of Dumbledore's Army battling to save a prophecy which tells of the connection between Voldemort and Harry.
The Harry Potter books make excellent starting points for discussion. This guide outlines a host of ideas for discussions and other activities that can be used in the classroom.
They cover some of the main themes of the book, many of which, while set in an imaginary world, deal with universal issues of growing up that are familiar to all children.
Discussion points
Inside this resource pack you'll find ten discussion points about the book – themed around understanding the text.
There are also four in-depth discussion points surrounding:
Anger
Power
Exams and learning
Prejudice
Order of the Phoenix project for schools
Use the ideas in this pack to write a detailed analysis of one character from Harry Potter and the Order of the Phoenix. This will teach pupils to analyse character traits and will improve their close reading of a text.
Children will need to pick four traits that fit the character they are thinking of before choosing a passage that illustrates these traits.
More activity ideas
Write a blurb
Guess who
Rate the teachers
Character fact file
Visit the Bloomsbury website for more Harry Potter discussion guides and reward certificates. Browse more ideas for teaching with Harry Potter.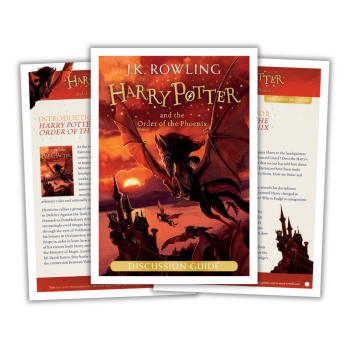 DOWNLOAD A FREE RESOURCE!
Order of the Phoenix – Harry Potter 5 discussion guide and activities