In their first collaborative picture book, the bestselling team of Shannon Hale and LeUyen Pham have put their horns together for the most heart-bursting, fuzzy-feeling, perfectly unicorn-y story imaginable.
Meet Itty-Bitty Kitty-Corn. This book is charming and cheerful, but it is also full of important themes and subjects that are perfect to share with ages 4+ in the classroom.
Packed with appealing characters, Itty-Bitty Kitty-Corn is a story of identity and seeing others for who they really are.
It explores ideas around believing in yourself, building positive relationships and celebrating difference.
A spread where Kitty tells Unicorn, "I see you" is not only a lovely statement on friendship for children, but also on visibility; of knowing yourself and seeing others – and most importantly, letting others know that you see them.
Itty-Bitty Kitty-Corn is filled with illustrations that will appeal in EY and KS1 settings, featuring lovable and expressive animals – and it has a lovely story flow that makes it a brilliant book to read aloud in the classroom.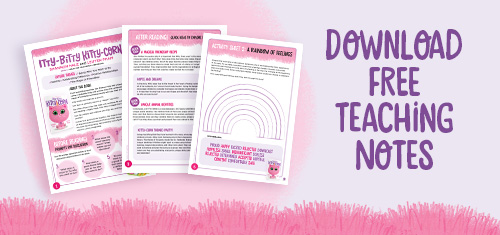 Explore themes in the story: free teaching notes
Inspire budding young readers to explore the book with free teaching notes, including discussion ideas and activity sheets, created by Abrams & Chronicle Books.
Perfect for the classroom, these fun, themed activities will prompt students to look closer at key ideas in the book – from understanding the importance of being who you want to be, to exploring identity and difference, and celebrating the magic of friendship.
The activities are flexible for use in any Early Years or LKS1 classroom and can be dipped in and out of to suit the needs of your class. Different ideas come with worksheets that are easy and economical to print (each activity is nicely confined to one A4 sheet), and the tasks are varied – designed to keep children interested.
The book itself can be used with ages 4+, its highly illustrated pages providing enough visual stimuli to keep younger children engaged; and the activities, too, can be easily differentiated to cater for different ages and abilities.
Here's a sneak preview of some of the activities included:
Prompts for discussion before reading, to engage children in important themes.
Reading comprehension, retrieval and inference activities to develop literacy.
A 'Feelings Hunt', encouraging children to find examples of different emotions in the story and match key words to scenes in the book, developing their empathy skills.
Quick ideas for cross-curricular activities after reading, for example: creating magical friendship recipes, sharing hopes and dreams, creating unique animal identities, and even hosting a Kitty-Corn party, complete with unicorn horn bunting and cupcakes!
There are limitless opportunities to use Itty-Bitty Kitty-Corn as a cross-curricular class reader. We can't wait to see what magic you conjure with your class!
Share how you are using Itty-Bitty Kitty-Corn with your children on social media using #IttyBittyKittyCorn and tagging @AbramsChronicle.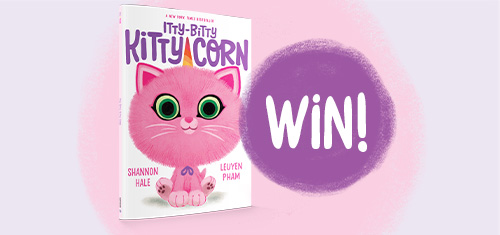 Win a class set of books
To celebrate the release of Itty-Bitty Kitty-Corn, Abrams & Chronicle Books are inviting teachers to enter into their exclusive competition to win a class set of books!
For your chance to win 30 copies of Itty-Bitty Kitty-Corn for your pupils, enter the competition by Friday 20th May 2022. Good luck!
Find out more about Itty-Bitty Kitty-Corn and other books on the Abrams & Chronicle Books website.