30 Second Briefing
Grimwood is the bestselling, award-winning and brilliantly anarchic comedy-adventure series by Nadia Shireen.
Highly illustrated throughout, it's perfect for readers age 7+, fans of Dog Man, David Walliams, Bunny vs Monkey – and anyone who loves to laugh!
The latest instalment in the series, Grimwood: Attack of the Stink Monster!, is available in bookshops and online now. Order your copy here.
"Really fresh, very funny and full of energy."

Frank Cottrell-Boyce
1. An animal adventure with a difference
Fox cub siblings Ted and Nancy escape the Big City, on the run from Princess Buttons, the scariest street cat in town.
They flee for Grimwood, expecting to find refuge in the peaceful countryside. Instead, they meet thieving eagles, dramatic ducks, riotous rabbits and a whole host of unusual characters.
Grimwood is . . . well, weird. But they grow to love their new life in Grimwood – the forest where anything can happen. And, with their new friends, they face the toughest challenges, have the maddest adventures, learn the biggest life lessons and have the most fun two fox cubs can have.
"So funny it should come with a health warning."

Rob Biddulph
2. Ideal for children who love funny books
It's no surprise that Grimwood has been shortlisted for the Lollies (The Laugh Out Loud Book Award, 2023)! This comedy adventure series is fantastically funny and brims with laughs and surprises.
"Comic gold, tinged with such tenderness."

Kiran Millwood Hargrave
3. Perfect for reluctant readers
Bursting with exciting, funny and completely unique illustrations, the Grimwood series is accessible for all readers as well as those who need more support with their reading.
With spacious pages and lots of detail to explore on every page, children of all reading abilities will be excited to turn the pages to find out what happens next, in this unforgettable and warm-hearted series.
"Funny, anarchic, original and gloriously silly."

Richard Osman
4. Created by award-winning Nadia Shireen
Grimwood, Nadia Shireen's first series for older readers, has been shortlisted for the Lollies (Laugh Out Loud Book Award 2023), Children's Book of the Year (Younger Fiction), The Week Junior Book Awards 2023 and the Books Are My Bag Readers Awards.
Nadia has also won awards for her picture books, including the UKLA Book Award – and been shortlisted for the Roald Dahl Funny Prize and the Waterstones Children's Book Prize.
"The inside of Nadia Shireen's brain must be a fun place… there are SO MANY funny jokes and hilarious moments… GO read it now!"

Maisie Chan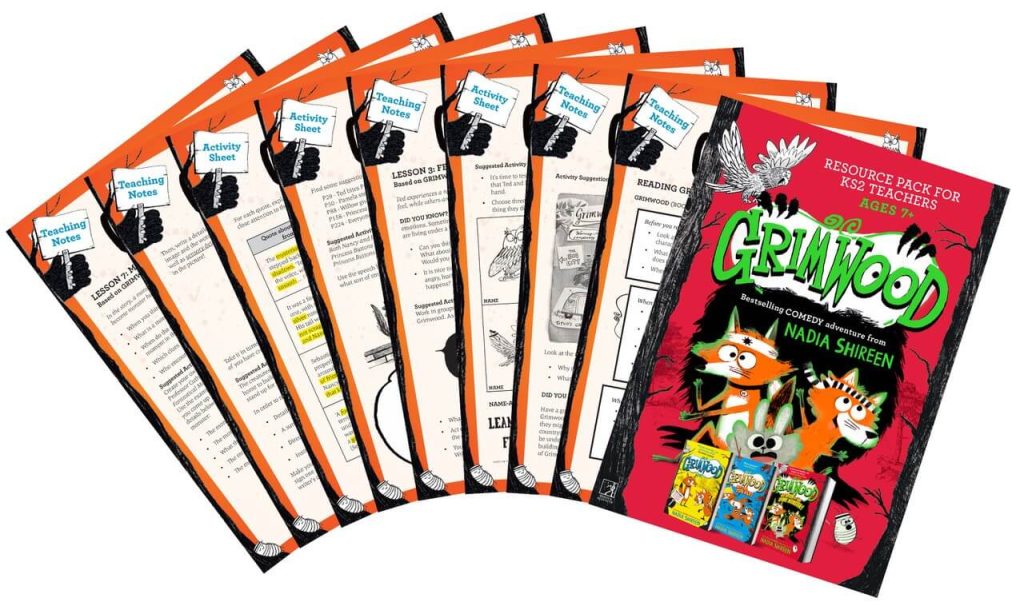 5. Free teaching resources available
The Grimwood resource pack contains imaginative and interactive resources based on the full series, for KS2.
Created by an educational specialist, the cross-curricular resources cover key themes, including standing up for what's right, understanding trust and making friends, across literacy, geography, science, drama, PSHE, and art, design & technology.
Each activity has clear objectives and outcomes, to help with your planning. Download a FREE resource pack here.
Need to know
Comedy adventure series created by award-winning author/illustrator of Barbara Throws a Wobbler, Nadia Shireen
Anarchic animal adventure full of laughs, friendship, heart and surprises
Highly illustrated with fabulous black and white illustrations throughout
Ideal for KS2 children to read in school and share at home