Subordinate clause KS2 – 8 of the best English resources and worksheets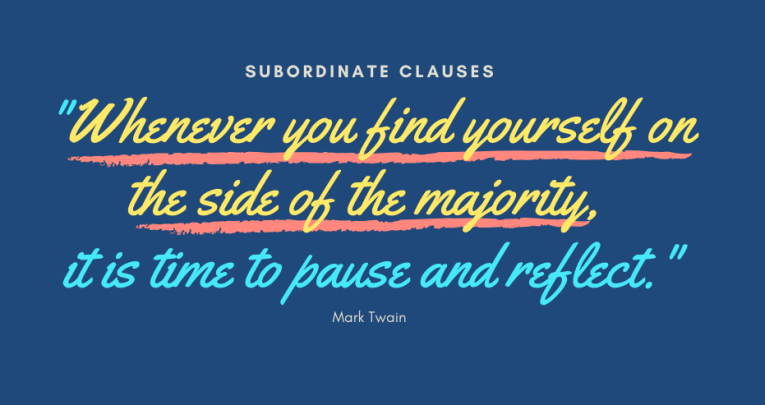 What is a subordinate clause? These great activities, resources and lessons for primary pupils will teach children what they are and how to use them in their writing or spot them in reading…

by Teachwire
Subordinate clause definition
"A clause that cannot form a sentence on its own but can be joined to a main clause to form a sentence."
Source: Cambridge Dictionary
What is a dependent clause?
"Because a subordinate clause is dependent upon a main clause to be meaningful, it is also referred to as a dependent clause."
Source: Grammarly
What is a subordinate conjunction?
"Subordinate clauses will often begin with subordinating conjunctions, which are words that link dependent clauses to independent clauses, such as:
for
as
since
therefore
hence
consequently
though
due to
provided that
because
unless
once
while
when
whenever
where
wherever
before
after"
Source: Grammarly
---
Subordinating conjunctions SPaG challenge mats Y2 and Y3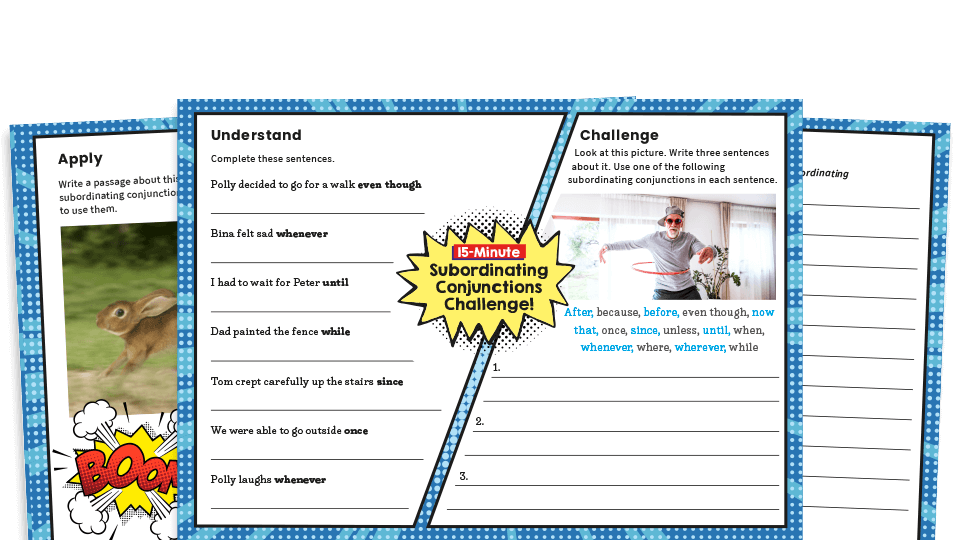 These bright, appealing PDF grammar worksheets are an excellent way to practise and revise using subordinating conjunctions in Years 2 and 3, and are divided into five sections:
Understand:
Complete the example sentences that contain subordinating conjunctions.
Challenge: Look at the image provided and write three sentences using one of the subordinating conjunctions provided in each sentence.
Test:
Circle the subordinating conjunctions in the example sentences, then put four subordinating conjunction into the blanks in the sentences provided so that Mike and his dad are working at the same time.
Explain:
Using your own words, explain what a subordinating conjunction is.
Apply:
Write a passage about the race shown in the image provided, including at least three subordinating conjunctions to show that you know how to use them.
Activities include SATs-style questions and opportunities for creative writing responses, with eye-catching images as prompts.
Get the Year 2 version here and the Year 3 version here.
---
---
'What is a subordinate clause?' with examples video
Want to help children understand subordinate clauses? This short Oxford Owl video will let them learn the difference between a clause, a subordinate clause and a relative clause.
Perfect to help with grammar homework and to prepare for the Key Stage 2 SATs test.
Find more Oxford Owl videos on its YouTube channel.
---
Main clause and subordinate clause

Of course, you can't really teach subordinate clauses without the context of main clauses. So this page from The School Run has a neat summary of clauses and how they work together, with clear illustrations to emphasise examples.
---
Subordinate clause examples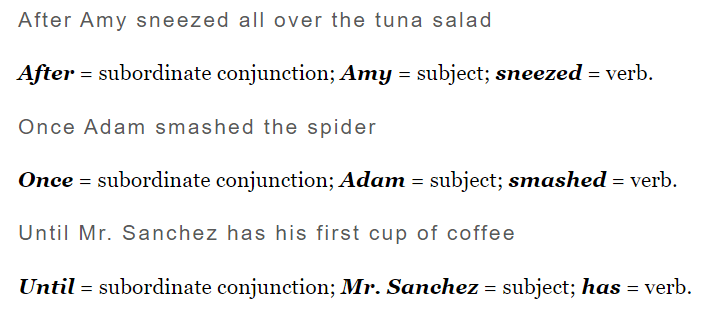 This page from Grammar Bytes has a good list of examples with explanations as to why they are subordinate clauses, stating:
"A subordinate clause cannot stand alone as a sentence because it does not provide a complete thought. The reader is left wondering, 'So what happened?'"
So looking at the first example in the image above, it asks: "So what happened? Did Amy throw it down the garbage disposal or serve it on toast to her friends?" explaining that because there's no complete thought here, it is only a fragment of a sentence.
---
Subordinating conjunctions posters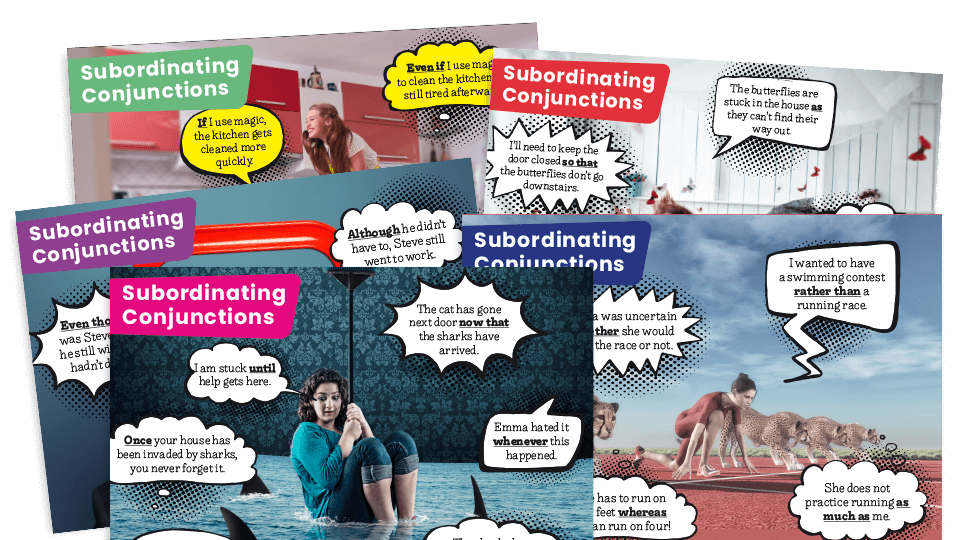 This subordinating conjunctions classroom display pack features a set of six posters illustrating a range of subordinating conjunctions, using eye-catching images surrounded by example sentences.
Blank versions of the posters are also included, so children and teachers can add their own text suggestions.
---
Subordinating conjunctions 5-lesson pack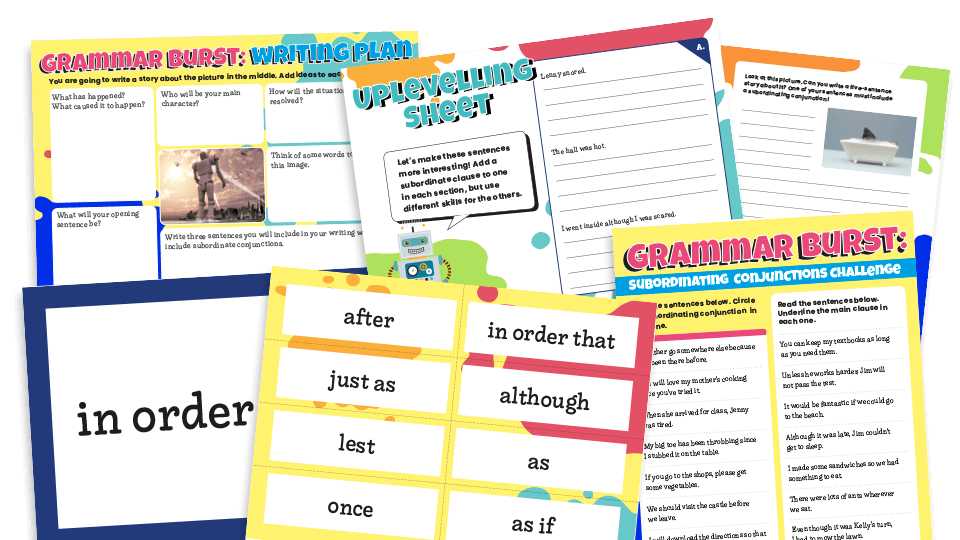 This powerful Year 3 grammar resources pack provides everything you need to teach a series of five lessons on subordinating conjunctions, culminating in an extended writing task where children can use their grammatical understanding in context.
---
Year 5 'linking ideas across paragraphs' resource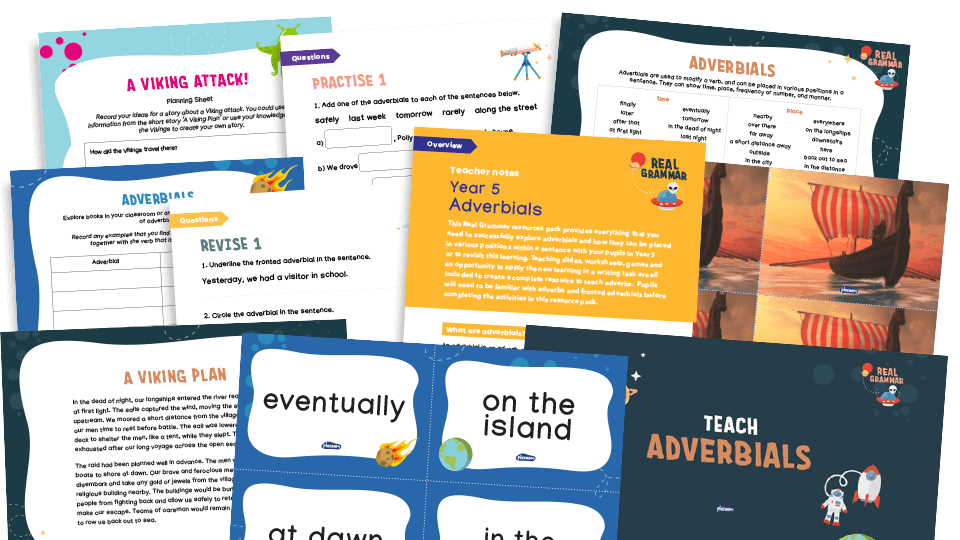 This KS2 grammar resource pack will help you explore adverbials, including adverbial phrases, and how they can be put in various positions within a sentence.
You'll get teaching slides, worksheets, games and a suggested writing task.
---
Clauses question sheet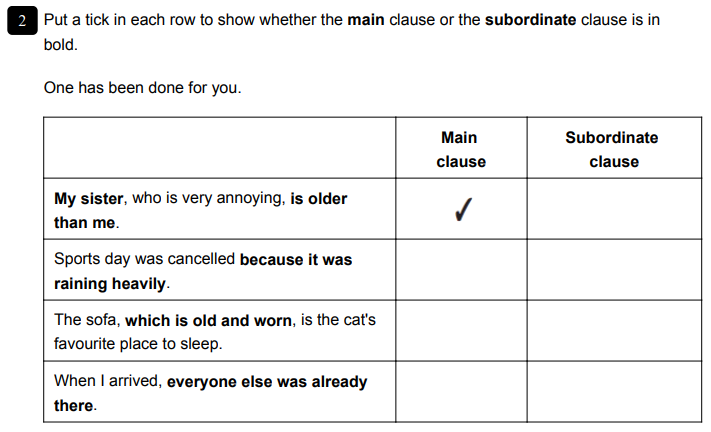 This 20-page PDF has a whopping 41 questions on clauses, including subordinate clauses, for children to do at home or in school.
---
Main and subordinate clauses worksheet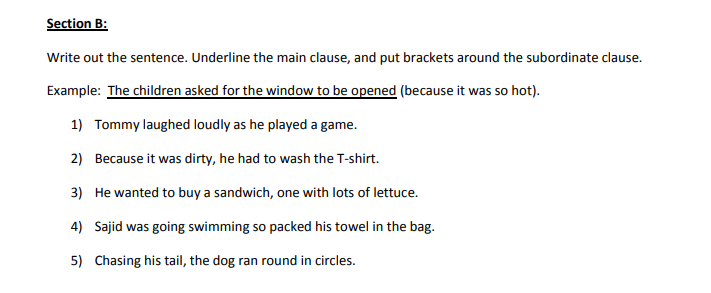 This worksheet is divided into four sections, with 16 questions in total.
The first asks students to say whether the underlined part is a clause or a phrase. In the second they need to write out the sentence, underline the main clause and put brackets around the subordinate clause.
In the third and fourth sections they need to add a subordinate and a main clause respectively to the sentences provided.