Primary school music – How to keep pupils (and Ofsted) happy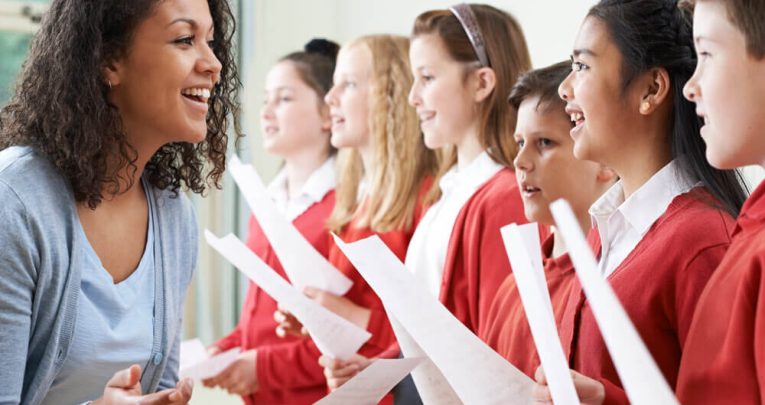 Ofsted want all schools to teach music to all children, and we can all play our part, says David Liggins…
As class teachers, we are amazingly versatile at teaching most subjects. So why do we go on the defensive at the very word 'music'?
We ask ourselves, 'Do I have to sing, read music and 'be musical' to teach it?' And while our singing may sound okay in the shower, or after a few drinks at a karaoke, we are possibly less thrilled at the thought of singing with 30 children in a classroom.
After forty years teaching in primary, secondary and adult education, I've drawn some conclusions. Firstly, everyone is musical. You may not believe it, but it's true. And all you need to teach music is confidence, a little training, and the right resources.
Music is for everyone
When pupils see visiting 'specialists' rather than class teachers doing all the music, they get the wrong message. Music is on the curriculum, it's fun, and it's for everyone: your class included.
Secondly, I've noticed a 50/50 split in those who prefer to sing, and those who prefer to play instruments. This is rarely considered, and yet is true of every class I've ever taught.
If you are a reticent singer, then so are some of your pupils, and the right instrument could be key to their success. Both singing and playing are statutory requirements for primary music.
They also inform each other. Singing a tune will help you to play it; and playing an instrument will help you sing more tunefully. Many schools separate singing and playing into two distinct activities.
Ofsted's Research Review series: music refers to 'interrelated dimensions of music' and recommends teachers to 'avoid teaching them separately'.
Use simple instruments
I introduced whole-class instrument-playing to music lessons in 1977, involving everyone in playing, singing and listening. Using simple instruments and adaptable music, instrumental lessons became singing lessons and songs turned into instrumentals.
Previously reticent singers sang enthusiastically to help their instrument-playing friends, and vice versa. This holistic approach benefits pupils and teachers. The only question is, which instruments best fit with voices?
After trying everything from recorders and tin whistles to whole-class guitars and keyboards, my favourite has become the English 4-hole ocarina. One recorder expert noted that pupils achieved more in two hours playing ocarinas than in two terms on recorder.
That is because playing the ocarina is far easier. And, while the Model Music Curriculum recommends an aspirational hour a week of music, Ofsted point out, that realistically, for Y1–6, music lessons total an average of just 15 to 20 hours per year.
This sharply focuses the mind on what you can practically achieve in the time available. Whichever instrument you choose, pupils need to pick it up quickly and use it well.
Music deep-dive
Ofsted also expect 'deep musical learning'. This is not as scary as it sounds! Mark Phillips, senior HMI and Ofsted national lead for music, recommends that rather than try many different instruments, pupils play one instrument year-on-year to make consistent, incremental progress.
In a music deep-dive, inspectors look for well-sequenced, well-implemented strategies that enable pupils to play, sing and make music with increasing skill and understanding.
They do not expect schools to follow the Model Music Curriculum or adopt a particular scheme; just create 'good musical outcomes for all pupils'. When your classes play, sing and enjoy music more and more each year, that's a good outcome!
Choose an instrument that is quick to learn and offers years of progress. Orchestral instruments (brass, woodwind, strings) are too complex to play well in a short time in whole-class lessons. Many schools do drumming, and whilst rhythm is important, the National Curriculum requires all pupils to play tuned musical instruments.
For me, the 4-hole ocarina works well. Its four holes are deceptively clever in giving an immediate octave. You can learn to play simple tunes yourself, and teach pupils to do the same, without having to first read music. Students can play great works in many styles and even take instrumental exams up to Grade 5 on the ocarina.
Whichever instrument you choose, your practical music-making lessons should be a highlight of everyone's week. Pupils love to play because playing is not working, and they learn musical skills through doing.
Ofsted want pupils to 'make more music, think more musically and consequently become more musical'. So, keep it simple: sing, play and make music together… lots of it.
---
David Liggins is a teacher, and co-author of 'Adventurous Music-Making' resources. He is also a member of Music Mark and Music Education Council. You can find David's free musical resources at ocarina.co.uk/instrumental.