Music national curriculum 2023 – why it's important, benefits and activity ideas for teachers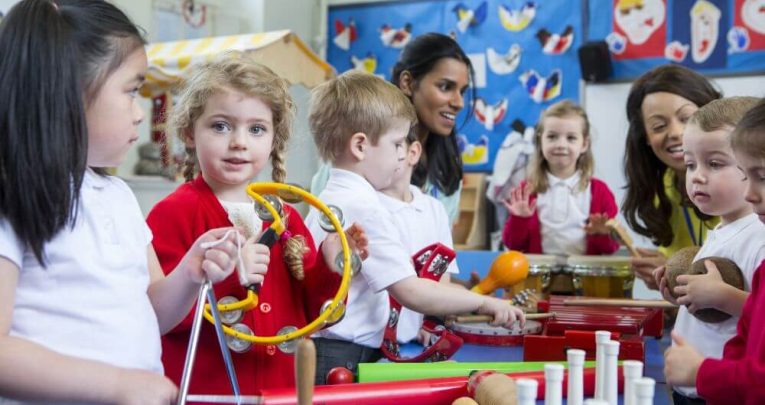 Why is music in the national curriculum and what exactly do you need to teach? Find out here…

by Teachwire
Jump to a section…
Music is a compulsory element of the national curriculum in England for all children up to the age of 14. The songs we end up learning at school often stick in our minds for a lifetime, demonstrating the powerful effect that it can have on us.
Whether you are an expert musician eager to produce a show-stopping primary school Christmas musical that shows off all the skills your class members or year group have learnt, or are just a class teacher who wants some advice about the primary music curriculum and how to teach it, look no further.
Looking for the music programmes of study for KS1, KS2 and KS3? Find them here.
---
Why is music in the national curriculum?
Quality, child-centred music lessons at school can develop children's brains, increase IQ and develop children's ability to problem-solve. Many studies have shown that high-quality musical learning has profound benefits for children in terms of wellbeing, academic achievement and the development of emotional and social skills.
The national curriculum in KS1 and 2 says that music lessons "should engage and inspire pupils to develop a love of music and their talent as musicians, and so increase their self-confidence, creativity and sense of achievement."
Why music education is important
Studies have shown that music activities in Early Years facilitate many different aspects of development and learning, providing one of the most effective influences on young people's brain development at this key age.
Music is a multisensory experience and involves three ways of learning: visual, auditory and kinaesthetic. It has been shown to activate all three cortices (motor, visual and auditory) of children's brains.
In fact, Anita Collins, a neuroscience and education researcher has described the effect of it as "like fireworks going off in the brain […] Music is a whole brain workout."
Music national curriculum overview
The primary music national curriculum for KS1 and KS2 covers the following:
Singing
Playing tuned and untuned instruments
Listening to recorded and live music
Composing and improvising
Understanding music history
Understanding notation
Teaching music in primary school requires facilitating children to "perform, listen to, review and evaluate music across a range of historical periods, musical genres, styles and traditions, including the works of the great composers and musicians".
In order to fulfil these requirements – and satisfy a potential Ofsted deep dive – you need to make sure that through your music teaching you are covering each skill and element.
As Dr Elizabeth Stafford, director of Music Education Solutions, points out, when it comes to different types and genres, "the film music of John Williams, a song by The Beatles, the jazz of Miles Davis and the musicals of Sondheim could all be classed as being the very best of their respective genres and therefore worthy of study in their own right."
The national curriculum for music in KS1 and 2 doesn't provide any structural advice for curriculum design beyond end-of-Key-Stage expectations. It states that as pupils progress, they should "develop a critical engagement with music, allowing them to compose, and to listen with discrimination to the best in the musical canon." Read more here.
The national curriculum aims to ensure that all pupils:
perform, listen to, review and evaluate music across a range of historical periods, genres, styles and traditions, including the works of the great composers and musicians
learn to sing and to use their voices, to create and compose on their own and with others, have the opportunity to learn an instrument, use technology appropriately and have the opportunity to progress to the next level of musical excellence
understand and explore how music is created, produced and communicated, including through the inter related dimensions: pitch, duration, dynamics, tempo, timbre, texture, structure and appropriate musical notations
Key Stage 1 music programme of study and aims
The KS1 music curriculum states that pupils should be taught to:
use their voices expressively and creatively by singing songs and speaking chants and rhymes
play tuned and untuned instruments musically
listen with concentration and understanding to a range of high-quality live and recorded music
experiment with, create, select and combine sounds using the inter related dimensions of music
National Curriculum music KS2
The KS2 music curriculum states that pupils should be taught to:
play and perform in solo and ensemble contexts, using their voices and playing musical instruments with increasing accuracy, fluency, control and expression
improvise and compose for a range of purposes using the inter related dimensions of music
listen with attention to detail and recall sounds with increasing aural memory
use and understand staff and other musical notations
appreciate and understand a wide range of high-quality live and recorded music drawn from different traditions and from great composers and musicians
develop an understanding of the history of music
Music objectives KS2
In Key Stage 2, children should be taught to sing and play musically with increasing confidence and control. They should understand musical composition, organising and manipulating ideas within musical structures and reproducing sounds from aural memory.
---
Musical notation
As discussed above, the curriculum for KS2 involves school students learning about musical notation (the way that songs are written down so players know the duration and pitch of the notes they are meant to play). Each note is worth a certain amount of beats. Here are some music note names to explore with your class members:
Semibreve (whole note – four beats)
Minim (half note – two beats)
Crochet (quarter note – one beat)
Quaver (eighth note – half a beat)
Semiquaver (sixteenth note – quarter of a beat)
Download free frog and tadpole themed rhythm cards for teaching crotchet and quaver note lengths here.
---
Musical instruments
When you were young, you may remember primary school musical instruments consisting of a few dusty glockenspiels and a maraca or two. Nowadays, if you're thinking about buying musical instruments for kids at your school, the choice is much greater.
Ukuleles have replaced recorders as the musical instrument of choice in many primary classrooms. They are easy to use and have a pleasant sound that is popular with kids.
Ocarinas are also seen as an affordable and simple way to get a whole class playing tuned instruments.
Tuned percussion instruments such as xylophones and marimbas are a great way to cover the KS1 music aims. Use them to accompany the choir in your weekly singing assembly.
---
Primary school music lesson activities and ideas
Boost children's musical knowledge by kicking off your next lesson with these music facts:
Singing in a group has been proven to raise your mood. You release more feel-good hormones like oxytocin and less stress-causing hormones like cortisol.
In 2015, the Canadian astronaut Chris Hadfield released an album that was entirely recorded in space.
A tune that gets stuck in your head is called an "earworm".
Here are some simple ideas from Sue Newman, director of Boogie Mites Music Programmes, to develop children's literacy skills through musical play:
Explore pitch, tempo and dynamics in music. Sing a song high then low, fast then slow, loud then soft.
Use instruments such as shakers, sticks and drums to keep the beat, or use actions such as marching, bobbing up and down, clapping or stamping.
Tap out the rhythm (syllables) of words and music.
Play along with different styles of recorded music with a strong drumbeat.
Use the call-and-response method for leading sequences of vocal sounds, actions and instrumental sounds.
The following musical activity is based on Andrea Pyne's 'Don't clap this one back' idea:
As the music teacher, clap a range of rhythms, no more than four beats long, using your hands, body, voice or the floor.
Ask students to copy it.
If the children hear the rhythm 'don't clap this one back' in any form, they mustn't copy it.
If a pupil claps when they're not meant to, you get a point. If no one claps when they hear 'don't clap this one back', the students get a point. This is a great way for kids to practise their musical skills.
Mary Isherwood, headteacher at Camberwell Park School in Manchester, suggests the following music activities:
Create 'songboards' using visual images to represent popular songs and ask children to choose their favourites.
Put rhymes to familiar tunes to support young people with transitioning between activities.
Using an instrument such as a bodhran, conduct a turn-taking musical 'conversation' with a pupil.
Assign songs to certain auditory cues and use these to signify regular activities, such as assembly.
Learn the signs to a set of favourite songs and have regular 'sing and sign' sessions with pupils.
---
Music therapy and education
Music therapy is a technique that uses music to encourage children who find it difficult to express themselves verbally to share their feelings. It's not about teaching children how to play musical instruments. Instead, it's about using musical elements to help young people to fulfil their potential.
Within school settings, therapists may work with children to prevent exclusion, help to re-integrate students, or to boost a child's psychological or emotional development.
---
Calming music for the classroom
As headteacher Mary Isherwood points out, music can be a motivator and a reward. It can be calming and relaxing in some situations and stimulating and engaging in others.
The key to using music effectively is to know your students well, and what you are trying to help them to achieve.
Search YouTube for ready-to-go calming playlists and use them when children are doing independent work or during meditation sessions. Classic FM recommends the following pieces of relaxing classroom music for children:
The Swan – Saint Saëns
Air on a G String – Bach
I Giorni – Einaudi
American Beauty – Thomas Newman
---
More resources for music
If you're looking for a fun song for kids to sing to start off the new school year, this download includes free sheet music for piano and vocals, an audio backing track and lyrics sheets.
Combine music and Spanish language skills in KS2 with this series of short activities for children based around The Carnival of the Animals by Saint Saens.
Charanga Music features a large library of resources, songs, instrumental courses and creative apps. Find out more here.
Music Express is a digital primary resource. Take a look here.