Former 'reluctant reader' Dan Freedman writes stories that captivates children like him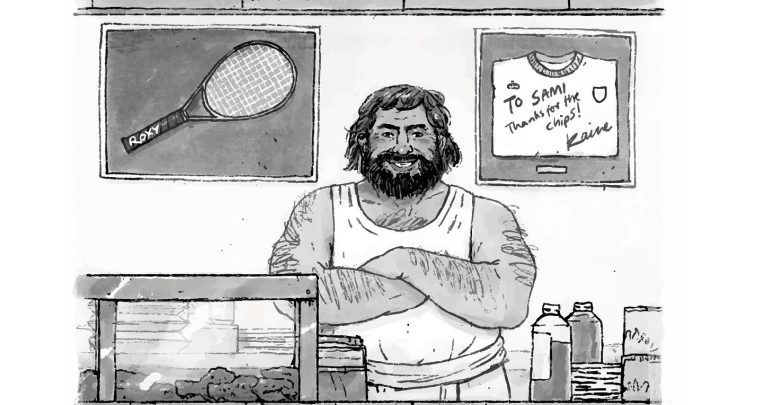 As a former 'reluctant reader' himself, Dan Freedman writes stories that captivate literary resisters and bookworms alike…
by Dan Freedman
When I was really young, it was just me and mum in our flat, and some of my earliest memories are of sitting with her, insisting that she read certain stories over and over again.
I enjoyed The Very Hungry Caterpillar, but I think my favourite was The Tiger Who Came to Tea – we must have shared that one hundreds of times. Mum was a big reader; she still is, in fact.
I know that she would have been hoping for her son to grow up loving books as much as she does… so it must have been really hard for her when, at the age of five or six, I basically refused to read any more. It was a 'phase' that lasted until I was 18.
I'm not really sure what was going on. Partly, I suppose, it happened because I am an extremely stubborn person. But with hindsight, I suspect it was also to do with the fact that I wasn't being offered the kinds of books that might have hooked me into the idea of reading 'for pleasure'.
I remember being given Goodnight Mister Tom at school, for example, when I was ten; it was so depressing, and just too much for me.
That said, I did enjoy Roald Dahl, and even picked up one of his books at home once, although I hid it under the pillow when my mum came into the room, as I clearly couldn't be caught doing the very thing I'd said I wouldn't!
Winning words
The thing is, though, I was reading; just not what I thought my teachers and mum wanted me to. It was all about football for me, and I couldn't get enough of the narrative surrounding it: commentaries, programmes, match reports and so on.
There's a real art to that kind of writing, and the more I soaked it up, the more eloquent I became myself.
I had an amazing vocabulary, too – because of the sporting context, I knew what words like 'apoplectic' and 'consolation' meant, and how to use them. So I was quietly developing a facility for language, and an enjoyment of it.
I wanted to be a footballer myself, of course – but like 99.9% of kids with that ambition, I wasn't nearly good enough.
One day, my mum suggested that I might like to be a sports journalist instead – and once I realised that this would mean getting paid to watch football, and that being good with words would help me get the job, that was it.
I say it to children in the schools I visit all the time: if you know what you want to do, that's a huge headstart.
My first piece of published writing was a letter in Shoot magazine, when I was 13. After that, I went to every radio station, TV channel and newspaper I could think of, asking for work experience.
I worked for Arsenal, Radio 5, ITV – and my first byline was for the Mail on Sunday.
All I wanted was to get close to sport, and so when I landed a job at the FA after university, I couldn't have been happier. I had some amazing experiences, but as the years went on I was getting more and more ideas for stories of my own.
When Jamie Johnson was finally accepted for publication by Scholastic, after three years of rejections (a painful, but valuable learning experience – again, something I always try to get across to the kids I meet), I decided to focus full-time on writing books.
Good choices
The popularity of Jamie Johnson has been amazing. I can't really explain it, but maybe the fact that I was a reluctant reader myself helps me to write in a way that grabs kids who are like I was.
I explore a lot of themes that resonate from my own childhood, and I think children relate to those. And because of my experience, the footballing aspect of the books is as authentic as it could be, which is really important for fans, whatever their age.
My most recent book, Unstoppable, is for older readers, although I'd love Y6 children to read it, too (which is why there's no swearing in it).
It deals with gang culture, and knife crime, and these are conversations we need to have with kids before they get to secondary school, because we want to inspire them to make good choices.
And yes, there's sport in there, too. I'm sure I could write about something else, and probably will one day – but while it's still inspiring stories that children really want to read, I'm in no hurry to find a different topic!
Unstoppable: what's it about?
Your class will almost certainly already be familiar with Dan Freedman's Jamie Johnson series (scholastic) – and whilst his latest book is aimed at a young adult audience, it's definitely a story worth sharing with Y6 learners.
Whilst the prizes dangled in front of twin protagonists Roxy and Kaine (Wimbledon success, and Premiership stardom respectively) would be out of reach of most youngsters, the challenges each must overcome in order to claim their reward are those that children will recognise from their own lives and the world around them.
Bad choices lead to serious consequences; but the redemption, when it comes, is both credible and profoundly satisfying. And yes, the narrative contains descriptions of criminality and violence, but, as the author is keen to point out, no swearing.
To be published from February 2019, David Fickling Books.