Year 3 science rocks-themed assessment paper, plus answer sheet
This Year 3 science worksheet is a sample of Sigma Science's Year 3 rocks paper, and features eight multiple-part questions for children to answer. The download contains the worksheet and an answer sheet.
Year 3 science worksheet
The first two questions covers different the hardness of different types of rocks – coal, limestone, granite, chalk.
Question 3 asks students to explain how simple fossils are formed, using images as a guide.
Question 4 covers the make-up of local or common garden soils.
In question 5, children need to state whether different rocks are natural or artificial. The rocks included are concrete, limstone, sandstone and brick.
We're back to soil in question 6, with a question about clay vs sandy soil.
Question 7 looks at the different purposes that rocks can be used for – and why some are better suited than others to the job.
Finally, pupils will think about the composition of sandy vs peat soil.
---
Find out more about Sigma Science's resources at sigmascience.co.uk.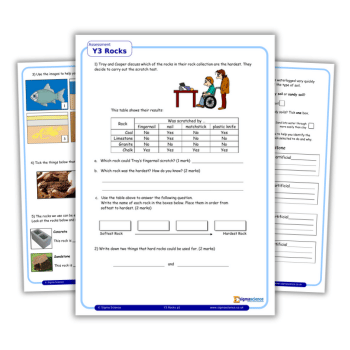 DOWNLOAD A FREE RESOURCE!
Year 3 science – Rocks assessment worksheet with answers