Activity ideas PDF and printable PDF worksheets
Explore a range of STEM education and literacy-related activities using Jarrett Lerner's EngiNerds novel as a launchpad.
From designing their own robot to writing and drawing comics, pupils will learn about the foundations of engineering, and how creativity can permeate both storytelling and science.
Created by the author, the accompanying worksheets will help guide your class through the activities, and enhance their cross-curricular learning.
They provide simple engineering projects for KS2 pupils. Draw your own robot, come up with alternative uses for everyday objects, and invent a gadget!
Worksheets can be used on their own, or in conjunction with Jarrett's book topic, based on his Enginerds novel.
Author-illustrator Jarrett Lerner is the creator of the EngiNerds series of Middle Grade novels, Geeger the Robot chapter books, Give This Book a Title and Give This Book a Cover activity books, Hunger Heroes graphic novels, and more, all of which are published by Simon & Schuster. Jarrett can be found at jarrettlerner.com and on Twitter and Instagram.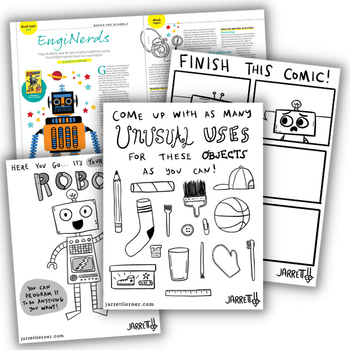 DOWNLOAD A FREE RESOURCE!
STEM activities KS2 – free engineering worksheets