Over 100 PDF worksheets and answers
Explore suffixes and prefixes with KS2 using this extensive pack of ready-made spelling sheets, including:
14 spelling tests
Spelling rule explanations
A huge number of activities, including for prefixes, suffixes, spelling patterns for sounds, homophones and near-homophones, and 'spot the spelling mistakes' games
Answer sheets
The sheets cover prefixes including im-, in-, ir-, il- and more; suffixes including -s, -es, -ing, -ed, -le, -el, -al, -ly and more; as well as varying spellings for sounds such as 'ay', 'ough' and 'ee'. They also include an explanation of 'there, their and they're', along with games and activities to practise their usage.
Teaching spelling can be a bit of a minefield. There are so many different approaches, all with different advantages.
As English takes so many words from other languages (one statistic I've seen suggests this accounts for around 80 per cent of our collective vocabulary), we end up with many exceptions to the spelling 'rules'.
Many people disagree with referring to them as rules for this reason, so perhaps 'generalisations' would be a better term, as it sounds less absolute.
Having a good phonics knowledge plays a huge part in learning to spell: if children can identify the different sounds they can hear, then they can make a phonetically plausible spelling suggestion.
There are many excellent resources out there that suggest ways to bring a more phonetic approach into the KS2 curriculum.
However, I've always believed that exploring the different rules or generalisations alongside solid phonics-based teaching helps children tackle unfamiliar words.
For this reason, I set about making these spelling sheets, which give pupils the chance to explore and experiment with different spelling patterns.
Sarah Farrell is a KS2 teacher in Bristol who makes and shares resources online. Follow Sarah on Twitter @SarahFarrellKS2 and see more of her work at mrsfclassroom.wordpress.com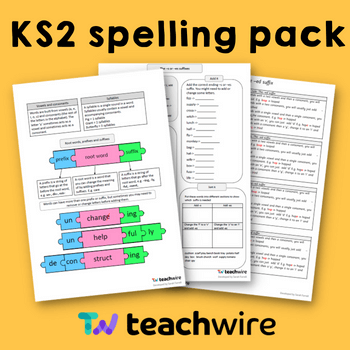 DOWNLOAD A FREE RESOURCE!
Spelling sheets – bumper KS2 resource pack