Help your autistic pupils tackle problem solving tasks in maths and science more effectively with these suggestions from Lynn McCann…
It's a myth that autistic people do not have imagination. The children we work with are just as interested and curious about the world as anyone, but this may be in seen in very specific areas and topics.
The challenge to them is when there's a problem that needs solving in a topic they're neither interested in, nor have any experience of.
We can, however, differentiate problem-solving tasks in maths and science by understanding how the autistic child in your class learns best.
What they'll learn
How to recognise key words in the language of maths problems
The process of breaking more complex questions down into manageable chunks
The purpose and principles of scientific experimentation
Lynn McCann is an ASC specialist teacher and author. Discover more resources for Autism Acceptance Week.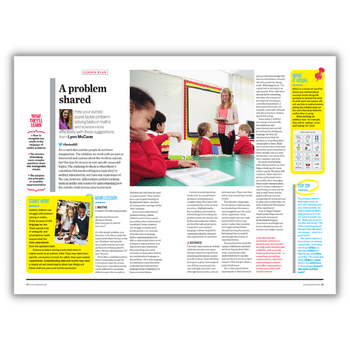 DOWNLOAD A FREE RESOURCE!
Problem solving lesson plan – Help autistic children tackle problem-solving tasks