Model text and teaching notes
Master alliteration, similes, and personification – and add a dash of extra wizardry – with Pie Corbett's original verse…
This is a sequence of sessions that builds towards writing a magical poem. In my poem (included in the download), When I blew the magic dust, there is a distinct pattern that involves using basic poetry techniques in a playful manner.
The first verse is a list of animals, using alliteration.
The second verse is a list of things we can see, using personification.
The third verse is a list of things found in nature, using 'like' similes.
The fourth verse is a list of things, using 'as' similes.
The final verse explains what the writer did once the magic dust had settled.
You could complete a number of short-burst pieces of writing across a week to practise these skills and prepare for the final challenge.
Pie's latest collection, Catalysts, has over 130 model poems ('A book full of magic and wonder' – Poetry Roundabout). Get your copy at shop.talk4writing.com/products/catalysts-poems-for-writing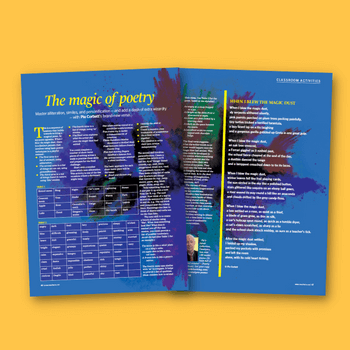 DOWNLOAD A FREE RESOURCE!
Pie Corbett's magical poem and teaching notes