Investigate the work of artist Keith Haring and create your own vibrant responses with Abby King's KS2 pop art lesson plan...
It's tempting to think that using a national or international football tournament to engage children's learning has to involve copious amounts of PE. However, making links between football and other subject areas can be a powerful motivator for children whose main interest is sports.
This lesson shows how the movements of favourite footballers, combined with pop art, can inspire an eye-catching art project.
Exploring the work and techniques of a well-known pop artist furthers the children's understanding of this artistic movement. It will also enable them to turn their sporting enthusiasm into a high-quality piece of art.
KS2 pop art learning objectives
Explore pop art and the work of artist Keith Haring
Develop art and design skills using mixed media
Create a piece of artwork inspired by the World Cup and pop art techniques
Abby King has worked in KS1 and 2 and currently teaches at an inner-city primary school in Birmingham. Browse more KS2 art ideas and resources for the Women's World Cup.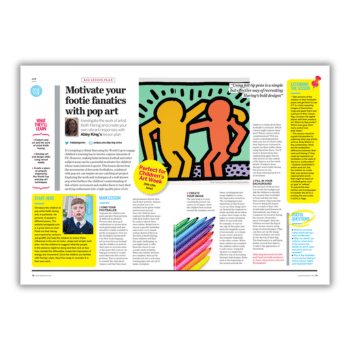 DOWNLOAD A FREE RESOURCE!
KS2 pop art – Football-themed lesson plan