The brimming energy of Roald Dahl's characters is captured perfectly by Quentin Blake's illustrations. Can your class achieve the same effect in artwork fashioned from recycled materials?
No matter how often Quentin Blake's drawings are seen in story books, on posters or birthday cards they still have a freshness and spontaneity that is unique among illustrators.
Quentin Blake's illustrations are the inspiration for this art and design lesson. Children will experiment with using recycled materials to create a collection of colourful sculptures that will allow them to bring Roald Dahl's stories – and your classroom – to life.
What children will learn
the properties of materials through assembling structures from recycled materials
how to mould three-dimensional shapes using papier-mâché
how to share and exchange ideas through working collaboratively in groups
Robert Watts is the Programme Convener for the MA Art, Craft and Design Education course at the University of Roehampton, London, and the co-author of Teaching Art and Design 3-11, published by Continuum Books. Browse more ideas for Roald Dahl Day.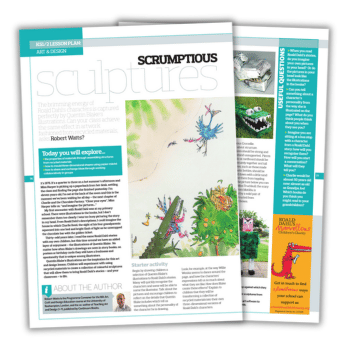 DOWNLOAD A FREE RESOURCE!
Roald Dahl art ideas – Make sculptures from recycled materials