Healthy eating lesson plans should introduce children to the different food groups and how a varied diet provides a healthy start for their bodies.
In this lesson, pupils will explore a variety of produce, using drama to make it memorable, and learn more about where food comes from.
The children will try their hand at preparing a healthy lunch box and bring it to life by exploring the different tastes and textures of food. They will also be introduced to key cooking vocabulary so they can describe the process of food preparation.
What they'll learn
Understand the basic principles and importance of a healthy and varied diet
Discover the different food groups through sorting and categorisation
Develop an understanding about where food comes from
Use simple cooking vocabulary to describe food preparation
Healthy eating lesson plans starter
Sitting in a circle with pupils, introduce the five food groups, explaining how they help the body develop. Pass around one example from each food group so the children can examine it.
List the different food groups on the board, or on a large sheet of paper on tables, and ask the children to place each food item into the correct category, justifying their reasons.
Once correctly sorted, run through the headings, attaching a drama action to explain how the food group helps the body. For example, dairy contains calcium for strong teeth and bones, so get the class to show their biggest, cheesiest grins.
Emily Azouelos is an experienced former primary teacher. She creates educational content for a variety of settings.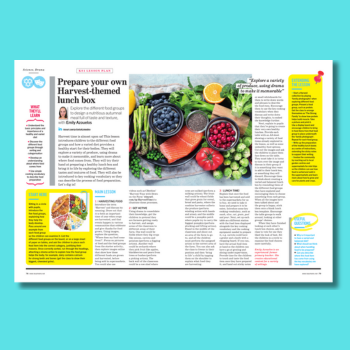 DOWNLOAD A FREE RESOURCE!
Healthy eating lesson plans – Prepare a nutritious lunchbox