Medium term plan and 12 x PDF worksheets
In this engaging map skills geography unit, KS1 students will learn about the names and location of the continents and oceans of the world; develop global awareness by looking in detail at the position of the seven continents and five oceans; and learn to locate the poles and the equator, and their position relative to the continents and oceans.
They will also learn the four cardinal directions and have the opportunity to make their own compass. They'll understand that the world is a sphere and create their own journeys across the world, and build on their map skills using atlases, world maps and globes.
By then end of this unit, students will be confident young geographers ready to explore the world in greater depth as they enter KS2.
Geography KS1 resources
This download contains 12 PDF worksheets for a six-week KS1 geography unit on map skills. These include
Continents and oceans of the world labelling activity
Continents rhyme time worksheet
Equator and poles treasure hunt worksheet
Journey lines game cards
Make your own compass template
Ocean jumble anagrams worksheet
County hide and seek worksheet
Nick East is a content writer, primary teacher and podcaster. Originally from Australia, he is now based in Frome, Somerset. Visit his website at mrfunology.com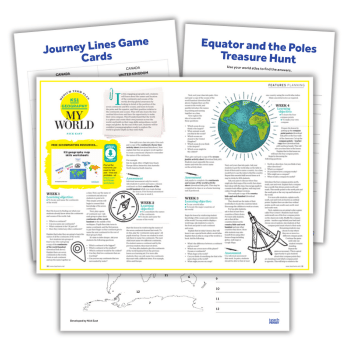 DOWNLOAD A FREE RESOURCE!
Geography KS1 – Medium term map skills plan