In this mini Christmas poetry KS2 project, we take Clement Clarke Moore's beloved poem, The Night Before Christmas, and give it a school-based twist.
Combining poetic writing with digital performance, pupils have the festive fun of using school as the setting and including staff or pupils, too!
This seasonal lesson then brings in sound and performance. Children can use apps and software to record a more immersive performance of their Christmas creations.
What they'll learn
To enjoy the original poem
About rhyming structures they can choose to deploy
How to piece together layers of sound in an application
To perform a poem with pace, intonation and awareness of audience and atmosphere
Christmas poetry KS2 starter activity
Begin by reading the original poem to the pupils. They may have heard it (or extracts of it) before.
Reading it twice is useful; once simply to enjoy and then again as a more technical read-through. They should identify key features of the poem. Focus specifically on the rhyming structure and the overall chronology of the story.
There is some quite complex and rich language in the poem, which evokes very specific memories. Therefore, using dual coding or imagery to support this is useful.
One year, as I read the poem, our TA drew symbols of the scenes on the board. This enhanced immediate understanding of words like lustre.  
---
Adam Jevons-Newman is deputy head and curriculum leader at Abbey Hill Primary School and Nursery in Nottinghamshire. Browse more Christmas activities to try in school.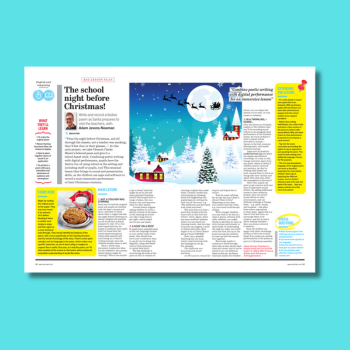 DOWNLOAD A FREE RESOURCE!
Christmas poetry KS2 – Write & record a festive poem