'I made orange, green and purple, using yellow, red and blue – and brown from all three colours, what a magical thing to do!'
Colour and Me! written and illustrated by Michaela Dias-Hayes and published by Owlet Press, is a delightful mix of self-empowerment and creativity.
The perfect text to share with an Early Years or Key Stage 1 class, it is a simple tale of colour discovery, but with a joyfully powerful message at its heart.
In the story, the main character, a little girl, enjoys a painting session with her beloved grandma. They paint their hands and fingers and create beautiful colour-themed masterpieces along the way.
The pair mix paint using the primary colours – red, yellow and blue – and create the striking secondary hues of orange, green and purple.
They also discover that mixing all three primary colours together creates brown. This discovery initially prompts a "Yuck, I don't like brown" reaction in the young girl, until her grandma helps to realign her thoughts and see the unique beauty in all shades.
Let's join the young artist and her grandma and get creative, inspired by their painting fun…
Don't have time for a full book topic? Try these quick art ideas to slot in when you have a moment.
Adele Darlington is an EYFS teacher and art lead in Rutland. She is also the author of 100 ideas for primary teachers: art, published by Bloomsbury.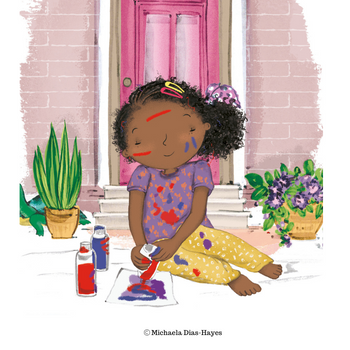 DOWNLOAD A FREE RESOURCE!
Books for topics – mixing colours KS1