3-page PDF featuring printable body part cards
Broaden children's understanding of the world by helping them to learn nine key parts of the body with this simple, fun body parts EYFS snap game…
In the vibrant world of early childhood education, fostering interactive and enjoyable learning experiences is paramount. This body parts EYFS snap card game presents an exciting opportunity to engage young minds while enhancing their understanding of key body parts.
This game not only promotes cognitive development but also reinforces vocabulary and social skills. Here's how you can effectively incorporate this game into your classroom:
1. Visual learning
The cards, adorned with vivid images of essential body parts like nose, eyes, and hands, captivate children's attention and aid visual learning. Encourage students to identify each body part, enhancing their knowledge through observation.
2. Vocabulary building
Utilise the game to enrich students' vocabulary. As they play, encourage them to verbalise the name of the body part they're putting down. This nurtures language development and boosts their ability to express themselves.
3. Social interaction
The game promotes socialization as students play together, taking turns to find a match. This collaborative aspect cultivates communication skills, patience and respect for others.
4. Memory enhancement
Engage young minds in memory-building exercises by playing pairs with these cards. When students flip cards to find matches, they exercise their memory recall, sharpening cognitive abilities in an entertaining manner.
5. Kinesthetic learning
Incorporate physical movement into the game. Have students perform actions associated with each body part they put down, such as touching their nose or wiggling their fingers. This kinesthetic approach reinforces learning through physical engagement.
6. Teacher-student interaction
As the facilitator, you play a pivotal role. Guide students in discussions about the body parts, their functions and how we use them. This personalised interaction deepens comprehension and connects learning to real-life experiences.
7. Adaptability
Tailor the game to suit diverse learning styles and abilities. For more advanced learners, you can introduce additional body parts or challenge them to name the body parts' functions.
8. Repetition is key
Don't hesitate to play the game multiple times. Repetition aids in memory retention and reinforces learning, ensuring that children grasp the concepts effectively.
---
Incorporating the Body Parts Snap Card Game into your early years classroom can create an engaging and interactive learning environment.
By combining visual stimuli, vocabulary enhancement, social interaction and memory exercises, you'll be nurturing holistic development in your students while fostering a love for learning that will serve them well in their educational journey.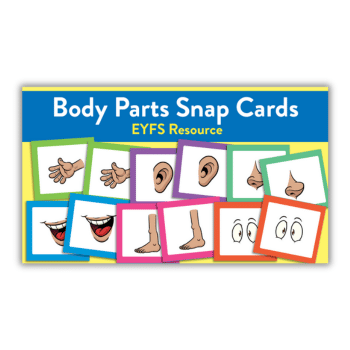 DOWNLOAD A FREE RESOURCE!
Body parts EYFS – Snap game for Early Years