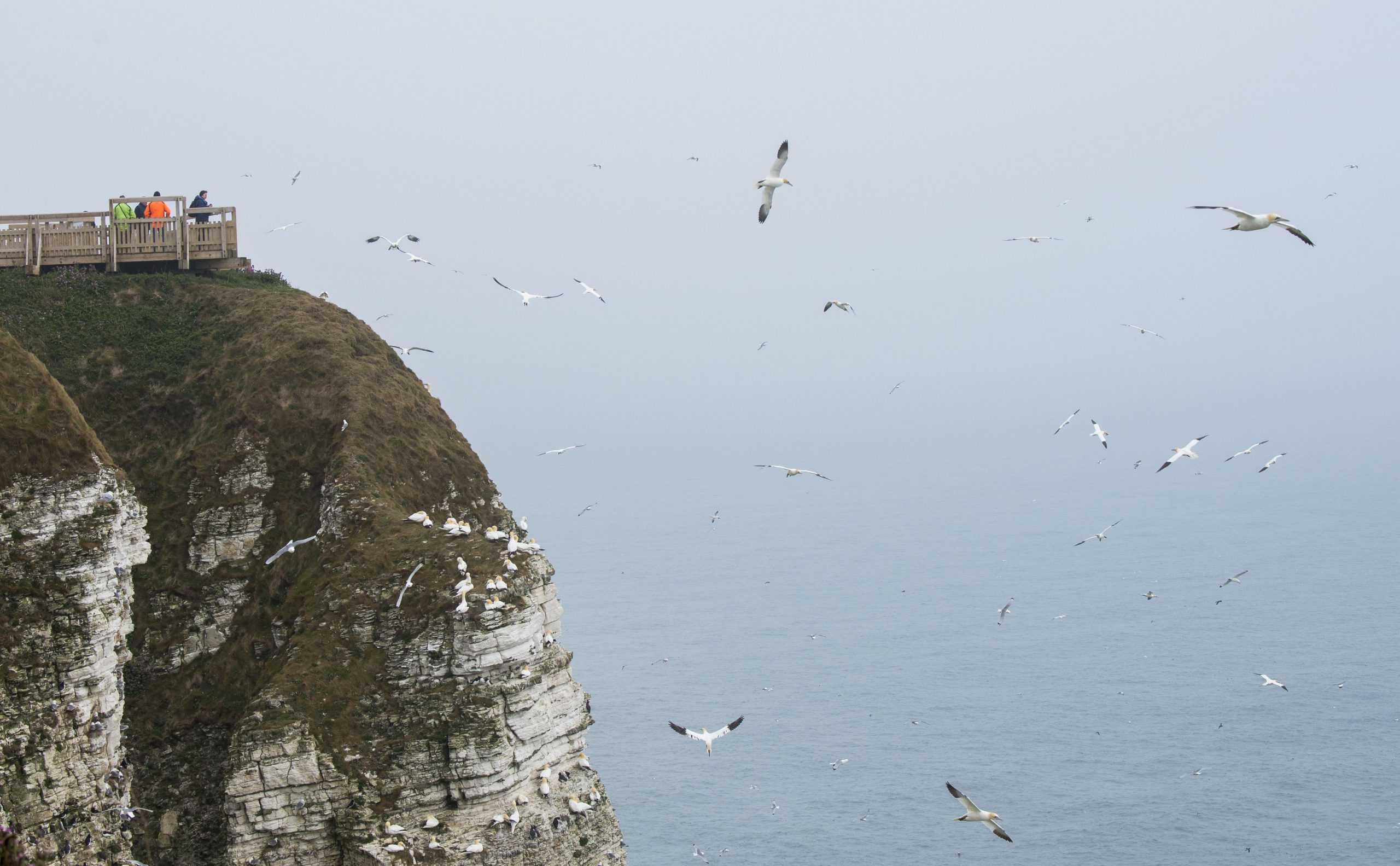 Full View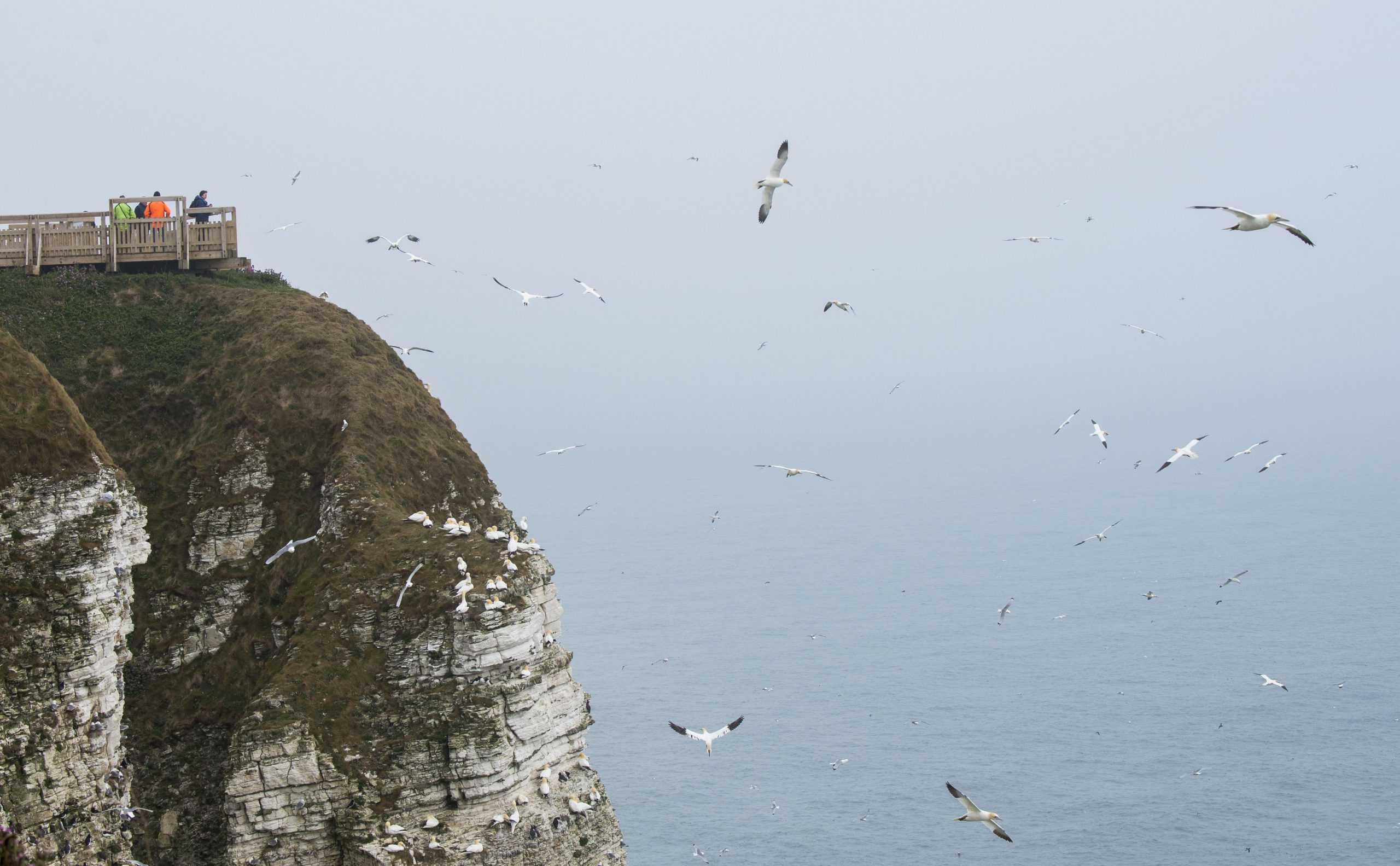 Photos of RSPB Bempton Cliffs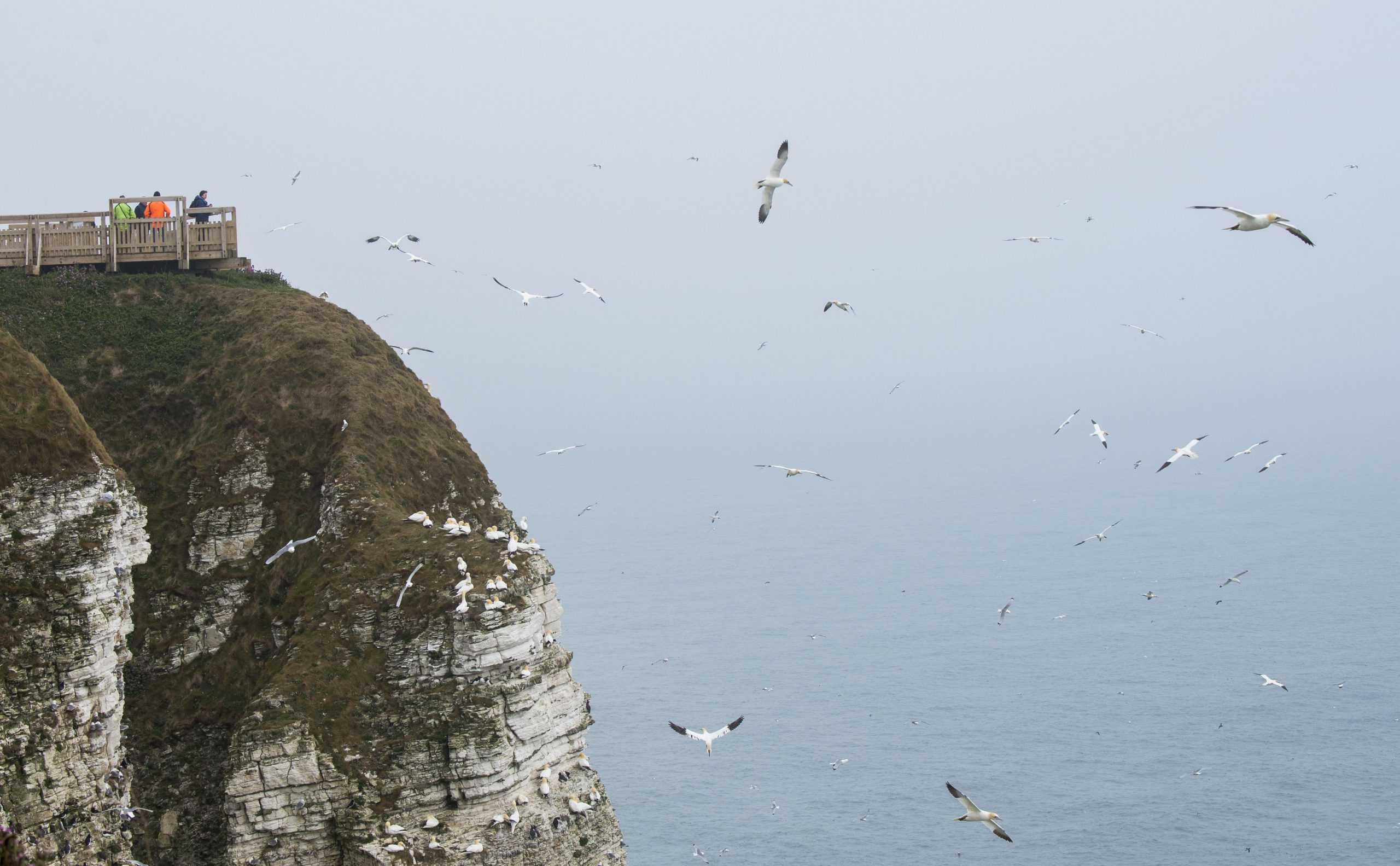 What will students see and do?
One of the most remarkable wildlife phenomena in the UK takes place at Bempton Cliffs on the Yorkshire coast each year. On a nature reserve overlooking the North Sea, hundreds of thousands of marine birds raise their offspring.
The Royal Society for the Protection of Birds (RSPB) offers a series of workshops on-site – ideal for science, history and geography trips – that enable students to experience this event up close.
There are eight main species of birds which nest at the site in the summer months. Students can spot fulmars, gannets, guillemots, herring gulls, kittiwakes, puffins, razorbills and shags.
They will experience birds bringing food to their nests, and chicks taking their first flights. It's also an opportunity to explore different habitats and food chains, and to learn about the adaptation of species.
There are six viewpoints from which to take in the sights of the cliffs, and the two walking trails are open every day. The Cliff Top Trail is two miles long and winds through clifftop habitats, taking in all six viewpoints. The Nature Trail is half a mile long and is intended for spotting smaller birds on the grassland and scrub habitats. The visitor centre has information for students about the cliffs and the wildlife living there.
The workshops last two hours, running either as a morning or afternoon session. It's also possible to combine two activities to create a full-day visit. As well as the learning outcomes achieved on the day of the visit, the education team can support teachers with ongoing learning when children return to the classroom.
The centre at Bempton Cliffs has been awarded a Learning Outside the Classroom Quality Badge, in recognition of the standard of education delivered during the workshops.
From Bempton Cliffs, groups are also well positioned to visit the nearby North York Moors National Park.
Those unable to attend the nature reserve in person can engage with the RSPB's Wild Challenge. This is an award scheme comprising 24 activities, divided into the categories 'Experience nature' and 'Help nature'. The scheme is designed to help students achieve curriculum outcomes through outdoor learning.
---
How does the trip link to the curriculum?
RSPB Bempton Cliffs' workshops link to curricular outcomes spanning the EYFS to Key Stage 3.
EYFS & Key Stage 1
In the Brilliant Birds activity, pupils start by identifying the survival requirements shared by all living things. Next, they look at the identifying features of different types of birds and their behaviours. Finally, on a nature discovery walk, they see which birds they can spot.
On the Seasonal Sensory Walk, pupils use their senses to search for indications of the current season, including plants and animals. They also consider how to identify different seasons, based on factors like hours of daylight and weather.
Key Stage 2
In the Discovering Birds activity, pupils go on a nature walk to see which birds they can find. They consider how birds adapt for survival, including communication and what they eat. Finally, students, create a food chain featuring the birds they've seen.
Investigating Coasts introduces pupils to studying the features of a coastline and the natural processes that created them. Creating a field sketch of the coastline, they label the features, identifying any wildlife they see. Finally, students consider how humans impact the coast and why there is a need to defend coastlines.
Key Stage 3
Using a combination of fieldwork techniques, the Geographical Fieldwork activity sees students identifying the interaction of humans and landscapes. They explore different areas of the reserve to see how people have impacted the area and consider how this is managed.
Subjects covered
---
Teaching resources provided
All workshop resources are provided by the RSPB and are included within the booking fee.
The RSPB website has a varied selection of teaching resources. These include lesson plans, interactive activities and virtual classes. All are free of charge to download and use.
---
Minimum and maximum group size
Group sizes depend upon the age of the pupils and the activities selected. Generally, teaching staff are asked to divide attendees into small groups before the workshops commence. The ratio of adults to children should be determined according to local guidelines.
---
Details of risk assessment
A site-specific risk assessment, covering the facilities and all taught activities, will be sent to you after the booking process is complete. It's also recommended that you complete your own risk assessment.
PLANNING
Don't miss our downloadable A-Z guide on completing a risk assessment
---
Facilities on-site
There are toilets, including accessible toilets, in the Bempton Cliffs visitor centre. The on-site café offers drinks and snacks and has an outdoor seating area. There's also a picnic area.
The on-site shop has a range of gifts and souvenirs, from bird food to binoculars.
---
Opening times
The Bempton Cliffs nature reserve is open from dawn until dusk each day. The visitor centre and shop are open daily from 9.30am to 5pm, and the café is open between 10am and 4pm.
---
Pricing
The general reserve entry prices are £6 for adults and £3 for children.
For EYFS, Key Stage 1 and Key Stage 2 pupils, workshops are priced at £4 for one session, or £6.50 for a full day. There's a minimum booking charge of £80 for a half-day session, or £130 for a full day.
For Key Stage 3 and above, a single session is £5 and a full-day is £8. The minimum charge is £100 for a half-day, or £160 full-day.
---
Travel arrangements
The reserve is approximately 30 minutes' drive from Scarborough and ten minutes from Bridlington. The car park has two coach bays, as well as a drop-off point outside the visitor centre.
Address
Cliff Lane, Bempton, Bridlington, East Riding of Yorkshire
YO15 1JF
---
Enquire Now
Book your school trip to RSPB Bempton Cliffs
For information on booking your school trip to this venue, click below.