Visualisers can transform teaching and learning in the classroom but they are also a powerful presentation tool for teacher training and Continual Professional Development (CPD).
The HUE HD Pro comes with HUE Intuition software which allows you to record videos with sound and save them locally, email them or upload them to YouTube.
Here are 8 good reasons to use a visualiser for CPD and training:
1 | Getting colleagues onboard
It would be nice to imagine that there has been ubiquitous adoption of visualisers in classrooms but not everyone has done so. One of the first tasks of CPD is therefore to show, tell and share with others just what visualisers can do and to sell their benefits.
This involves sharing videos of staff using their HUE cameras illustrating how they can be used and integrated across the curriculum for teaching, learning, assessment, classroom management, inclusion, engagement, parental conferences and more.
The next step is to train staff in using visualisers rather than just expecting them to fend for themselves.
2 | Lesson observation
Perhaps the most effective use of your HUE visualiser is for micro-teaching and lesson observation. Although teachers are familiar with being observed in person, visualiser-enhanced professional development can be a central part of the way teachers learn in schools.
Teachers watch a recording of a master teacher modelling a teaching practice and then try the same themselves, also whilst being recorded.
The master teacher can watch the recording and provide performance feedback on how a particular practice or strategy was implemented. This can include anything from questioning skills to non-verbal communication and can provide the little nudges needed to improve performance.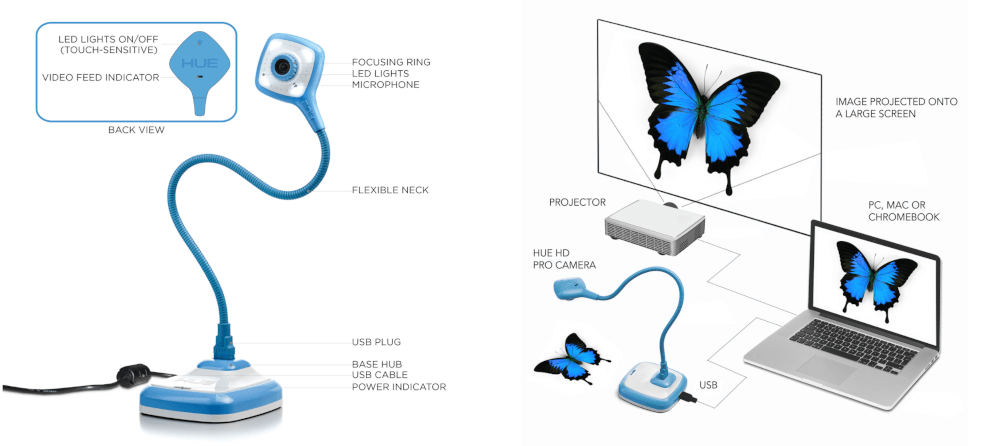 3 | Live action
If you are an expert in your subject or you have a reputation for classroom craft then live streaming is a great way to support your colleagues. All HUE cameras are Plug & Play and can stream video footage with just about any app that recognises a USB camera.
Staff can watch a colleague teach live and learn from their tried and tested methods, capturing tips and techniques that they may wish to adopt in their own teaching.
4 | Self-observation
One way to improve is to simply watch ourselves in action and that doesn't always have to involve colleagues. Sometimes just watching ourselves, self-reflecting and self-critiquing is enough to iron out some weaknesses but also to build on our strengths because we don't have a clear picture of what we do when we do our work.
5 | Tutorials
Using your HUE HD Pro camera you can create video tutorials, wiki-style Hows, step-by-step guides and teacher hacks on pretty much any curriculum subject or professional development area you want.
These can then be accessed at any time thus quickly building a library of professional development videos in your school.
6 | Video conferencing camera
With applications such as Zoom, Google Meet, Microsoft Teams, you can use your HUE HD Pro to talk to and see other classrooms or virtual guest speakers anywhere in the world.
These are perfect opportunities to involve CPD guests to talk on a range of training needs and to be a live presence in your school without actually being there physically.
7 | Distance learning in class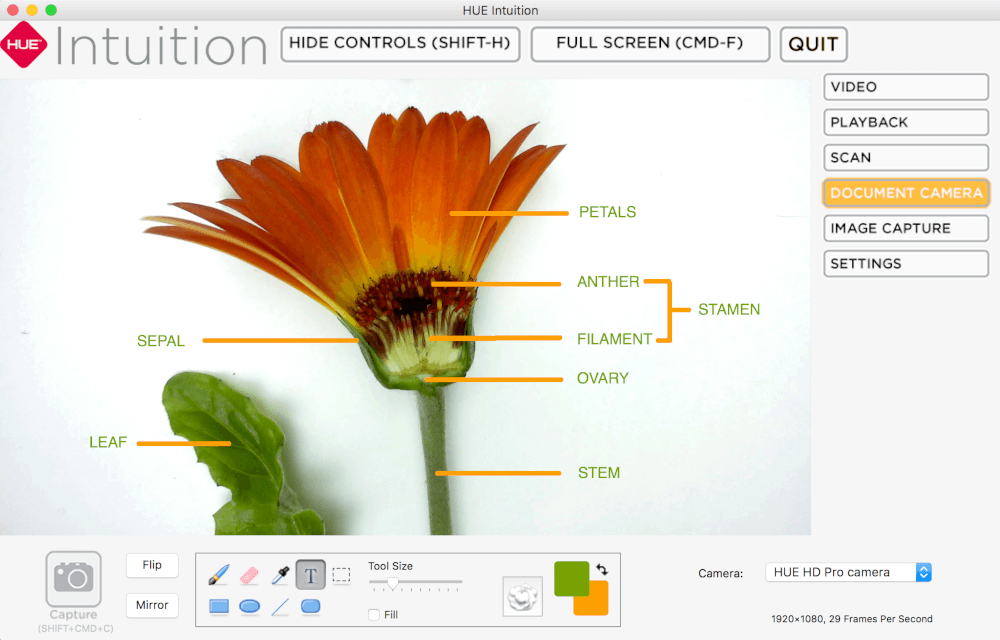 One of the most effective ways to build professional capital is to use the HUE HD Pro in a socially distanced classroom context.
Schools are concerned to keep classrooms as safe spaces to learn and this is where a visualiser can really help. When close interaction is off-limits then your HUE HD Pro can be an easy-to-use tool for keeping teaching and learning up close and personal without compromising health and safety guidelines.
For many schools, using a visualiser has upskilled staff, teachers have gained digital proficiency and this has led to an improved learning experience for students.
8 | Comparative judgement
When it comes to training staff to use a comparative judgement (CJ) approach in assessment, your HUE HD Pro can help compare work examples and discuss. This helps staff improve their guild knowledge and develop their assessment by pairwise ranking skills.