What is it?
---
A book club format provides time and space for readers to develop sustained reading and deep responses. A subscription gives access to a dedicated website that includes all the resources needed to run the group, including book-by-book guidance, book-specific notes for parents, free online author events, an optional teacher's book group, and a celebratory end-of-year challenge.
Award-winning Reading Gladiators was established by Nikki Gamble and the Just Imagine team, following a two-year DfE-funded research project for the London Schools Excellence Fund.
Reading Gladiators has been redesigned for current times to take account of the different needs of schools and pupils and is an excellent contribution to a catch-up plan.
It includes a carefully curated selection of books (purchased separately) that are organised to take readers on a journey from more accessible to increasingly sophisticated reading choices.
This is achieved through building a community of readers in which high-quality dialogue plays a vital role. The website includes downloadable resources including session-by-session notes and any presentations or handouts needed.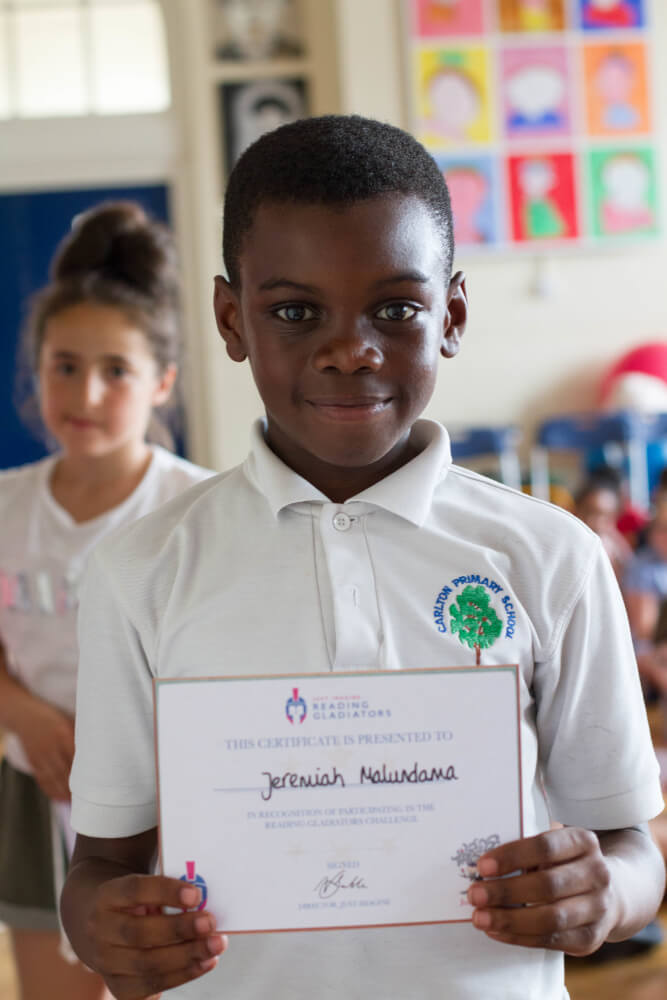 And if you want to involve parents and carers, we have some home learning advice with ideas for building context and sharing books at home. We advise reading six books across the year (one in each half term).
An end-of-year celebration and challenge includes an opportunity for children to share work with other schools.
For the first time, we are including a leader's book group, one for each year group, which will be an opportunity to share ideas and discover more about the upcoming books.
Free online author events will be run throughout the year, giving an opportunity for children to submit questions to some of the authors that they will have read, in their Reading Gladiator groups, class or wider reading.
---
"Working with children through the Reading Gladiators groups allows a relationship to develop around reading, and this is special, valuable and important. I would encourage anyone thinking about it to get involved"
Stephen Connor
Weston-on-Trent CofE Primary School, 2021
---
Need to know
Different levels of subscription from £100 for a year group to £300 for a whole school.
Books available at discounted prices.
Winner of the Teach Primary Award 2018
See it in action
Subscribe before 30 September 2021 and we will give you your first set of books (8 books) free of charge. Quote TPRG21 when booking.
---
For more information email assistant@justimagine.co.uk or visit takeonebook.org.