If you're looking for some fresh ideas to use in your science lessons, STEM club or even your next drop-down timetable day, why not consider using the resources from this new, national STEM competition?
Aimed at young people aged 11-to-19, the Youth Industrial Strategy Competition is asking students to come up with innovative solutions that have the potential to change our future industries, society and the environment based on a topic that interests them the most. The Competition is open to both individuals and teams, and is completely free to enter. Students are asked to submit their completed project online by 29 November 2019 and the top solutions will go on to compete at the National Finals in March 2020.
Students can complete their project on any topic that interests them, as long as it has a clear link to one of the UK's Grand Challenges, which have been set as part of the Industrial Strategy.
All participating students will receive a certificate as recognition of their work, and there are a range of prizes available for the top 20 projects too.
Find out more about the four Grand Challenges in the videos below!
The future of mobility
Clean growth
Ageing population
AI and data
All of the entries into the Competition will be read and judged by an expert in the topic or theme that the project is based on, and will receive written feedback online.
The top 20 entries will then be invited to showcase and present their project at The Big Bang Fair for the thousands of visitors that attend each year, and will be judged face-to-face by some of the leading researchers, academics and science communicators in the country.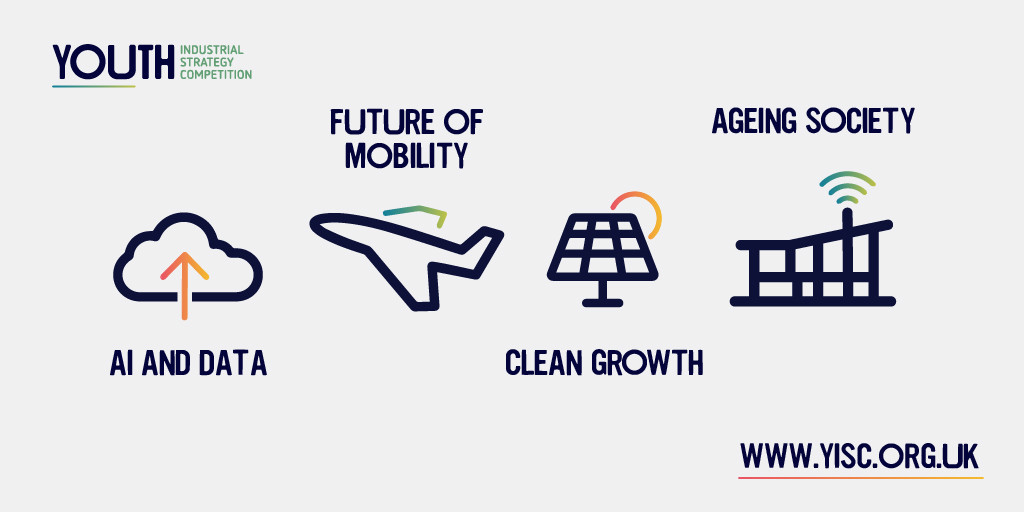 There are a range of teaching resources and project ideas available on the Competition website, including short animation clips, activity ideas and topic suggestions.
The British Science Association is also offering bursaries for schools in challenging circumstances and community groups that work directly with audiences who are traditionally under-represented and not currently engaged in science activity to support them in working on projects which can be entered into the Youth Industrial Strategy Competition.
There are up to 20 bursaries worth £300 on offer, and applications can be made via the form on the Youth Industrial Strategy Competition website.
Entries which meet the Youth Industrial Strategy Competition criteria will also be eligible for a CREST Award, the British Science Association's award scheme for STEM project work that inspires young people to think and behave like scientists and engineers.
CREST is available all year round, has no deadlines and is available at various levels for all abilities and ages. To find out more, click here.
Entries for the Youth Industrial Strategy Competition close on 29 November 2019. For more details about how to submit your entry follow the link.
The Youth Industrial Strategy Competition is run by the British Science Association and is supported by the Department for Business, Energy & Industrial Strategy.