Teach Primary Awards 2019 Finalists Announced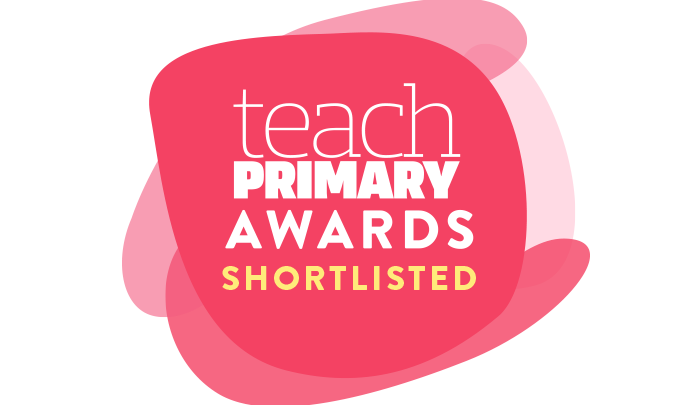 Nominations to the 2019 Teach Primary Awards have closed, and we are now delighted to reveal our finalists…
Comprising six nominations from each of our trade categories, the shortlist features a wide variety of innovative resources – from SEND and CPD packages, to maths and wellbeing, and much more.
You can find a full listing below.
The next stage will see the finalists assessed by a strong expert panel of primary authors, leaders, consultants and educators, amongst them regular reviewer John Dabell, President of Literacy Association Tracy Parvin and Head of Education Alison Wilcox from National Association of Special Educational Needs.
Their verdicts will be unveiled this October in the print edition of Teach Primary magazine, which will showcase our five-, four- and three-star winners in each category.
To all those who made nominations, thank you again for taking part – and to our finalists, good luck!
If you have any queries about this year's Teach Primary Awards, don't hesitate to get in touch with the team – email Teach Primary editor, Jerome Smail or advertising manager, Hayley Rackham.
Teach Primary 2019 Shortlist
Mathematics
MathsBeat – Oxford University Press
Maths of the Day – M4ths of the Day
I See Problem-Solving UKS2 – I See Maths
IDL Numeracy – IDLS International Dyslexia Learning Solutions
Izak9 – Qubizm
Doodle Maths – EZ Education
---
Foundation
The Key to the National Curriculum – B&C Educational
Jasmine – Create Development
Rising Stars History and Geography – Rising Stars
mozaBook – Mozaik Education
Music School – Charanga
Language Magnet Primary French Course – Language Magnet
---
Digital Device
HUE HD PRO – Ascent Information Technology
Skoog – Skoogmusic
Dash – Wonder Workshop
AI-Reading Assessment – Lexplore
Prowise Chromebook EduLine 360 – Prowise
ClassVR – Avantis Systems
---
CPD
The Write Stuff – The Training Space
Teachers Moderation Toolkit – Prim-Ed Publishing
The SEND Programme – Real Training
TOP PE – Youth Sport Trust
NOS Certified Community Package – National Online Safety
In the Know – Geographical Association
---
STEM
Submarine 7-11 – Encounter Edu
STEM Projects – Prim-Ed Publishing
The Solar Challenge – Practical Action
Whizz Pop Bang Science and Reading Resources – Launchpad Publishing
KUBO Coding – KUBO Robotics
CREATE Education Project – Primary – The CREATE Education Project
---
English
Reading Eggs – 3P Learning
Learning Village – Across Cultures
Fiction Express – Fiction Express (Boolino)
Hero Academy – Oxford University Press
First News Education Tools – First News Education
The Literary Curriculum – The Literacy Tree
---
SEND
Clicker – Crick Software
AI-Reading Assessment – Lexplore Learning
Penalty – HELP Educational Games
KAZ's SEN/Dyslexia Typing Tutor – KAZ Type
Provision Tracker – Provision Tracker
SNAP – Special Needs Assessment Profile
---
Wellbeing
Gooseberry Planet – 3P Learning
5-a-day-Fitness – 5-a-day-Fitness
Wellbeing in the Primary Classroom – Bloomsbury Education
SCARF Resources – Coram Life Education
CBT Doodling for Kids – Jessica Kingsley Publishers
Rising Stars Wellbeing Resources – Rising Stars
---
Free
Classical 100 – ABRSM
BBC Teach – BBC Education
WakeUpWednesday – Free Online Safety Resources
Tackling Plastic Pollution with Sky Ocean Rescue – Premier League Primary Stars
Puffin Schools Website – Puffin
UK Parliament Week 2019 Kit – UK Parliament