Books for topics – Shackleton's Journey planning for KS2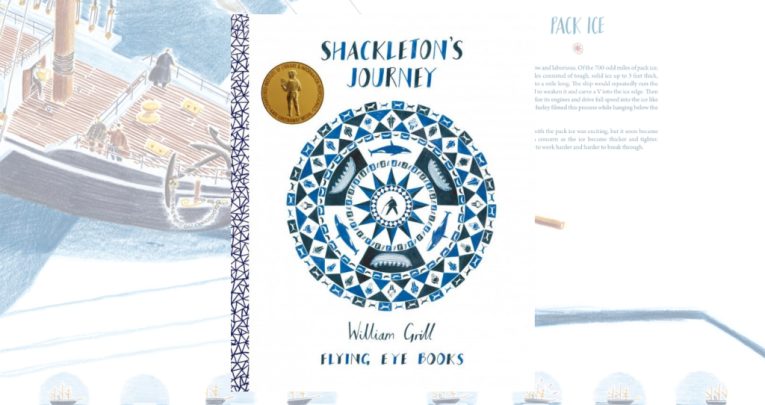 Give your class the chance to explore ship life aboard the Endurance with the help of William Grill's book, Shackleton's Journey
READ ON TO DISCOVER…
the lessons that Shackleton's famous expedition can teach about resilience and courage
persuasive writing activities inspired by the explorer's approach to recruiting a crew and buying a ship
suggestions for getting children to understand the key elements of an adventure story
engaging ways of teaching pupils the difference between 'wants' and 'needs'
Read in 6 minutes…
---
Download a Shackleton teaching resources pack featuring a PDF version of this article, worksheets to use in class, sample Shackleton's Journey PDFs and a PDF of Ernest Shackleton facts here.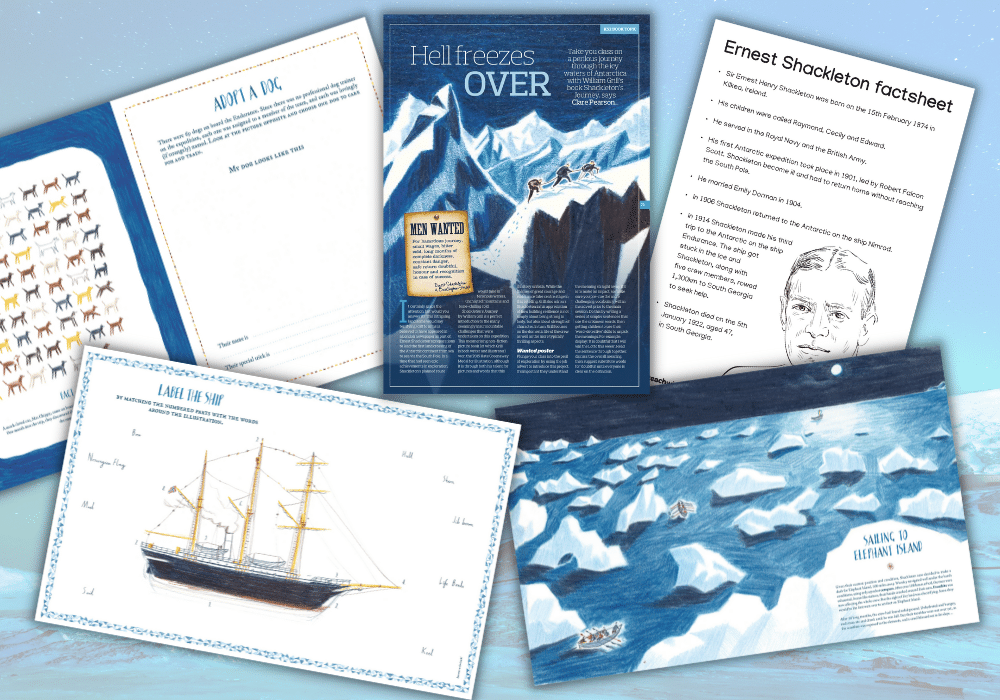 ---
MEN WANTED
For hazardous journey, small wages, bitter cold, long months of complete darkness, constant danger, safe return doubtful, honour and recognition in case of success.

Ernest Shackleton, 4 Burlington Street
It certainly grabs the attention, but would you answer it? This intriguing (and some would say terrifying) call to arms is believed to have appeared in a London newspaper as part of Ernest Shackleton's preparations to lead the first land crossing of the Antarctic continent from sea to sea via the South Pole. In a time that had seen epic achievements in exploration, Shackleton's planned route would take in ferocious waters, uncharted mountains and bone-chilling cold.
Shackleton's Journey by William Grill is a perfect introduction to the many seemingly insurmountable challenges that were undertaken on this expedition. This mesmerising non-fiction picture book (of which Grill is both writer and illustrator) won the 2015 Kate Greenaway Medal for illustration, although it is through both his talent for pictures and words that this (hi)story unfolds.
While the themes of great courage and endurance take centre stage in this retelling, Grill also mirrors Shackleton in his appreciation of how building resilience is not simply about being strong in body, but also about strength of character. In turn, Grill focuses on the domestic life of the crew as well as the more typically thrilling aspects.
Wanted poster
Plunge your class into the peril of exploration by using the job advert to introduce this project. It's important they understand the meaning straight away if it is to make an impact, so make sure you pre-cue the more challenging vocabulary within the advert prior to the main session. Do this by writing a series of simpler sentences that use the unknown words, then getting children to use their 'word-detective' skills to unpick the meanings. For example, display: 'It is doubtful that I will win the Lotto this week'. Read the sentence through together, discuss the overall meaning then suggest substitute words for 'doubtful' until everyone is clear on the definition.
Prepare a copy of the advert and place it in an envelope addressed to the class (perhaps adapting to 'People Wanted'). Explain that inside the envelope they will find a dilemma. Build the drama before opening the envelope and displaying the advert. Establish the choice that is presented – a chance to achieve fame if successful, but also a high risk of death. Take an initial poll of who would apply (or not), then give pairs Post-it notes to generate reasons for/against, before sticking them all on the board and summarising the class' thinking. Use these points to set up a 'Conscience Alley' activity, where a confident child walks between two lines of children that represent each side of her conscience. As she walks down, her peers whisper reasons why she should or should not apply. She can then reveal her decision and reasoning.
Finally, discuss what the children think the advert might lead to, before revealing Shackleton's mission.
Letter of application
Of the 5,000 who applied to be part of Shackleton's crew, 26 were chosen. On pages 5 and 6, Grill provides an illustration of each crew member with his name and post. Create an identity card for each child; he or she will keep this identity for the remainder of the project, writing diary entries in role at different points of the expedition. Display a letter to which the children will reply: 'Dear Applicant, thank you for showing an interest in the position available within the crew of the Endurance. Please provide details of your suitability for the position including professional skills and personal qualities that you feel would contribute to our success. Yours, E Shackleton'. Research the different roles on board ship, then model writing a formal reply.
Ship for sail
Finding a vessel capable of withstanding the rigours of the expedition was key. The Polaris had been designed as a ship for polar hunting and tourist cruises, but due to the owners' financial difficulties, Shackleton was able to buy it at a knock-down price. The Polaris was renamed Endurance after Shackleton's family motto – By Endurance We Conquer.
Grill explains how craftsmen constructed the boat for sailing in polar conditions, for example the bow could be used as a battering ram to break up thick ice. As a writing task, get children to create a sales brochure for the Polaris. Begin by using Grill's explanation to create a list of its selling points that would benefit Shackleton's mission. Then focus on developing a persuasive style by issuing whiteboards to encourage experimenting the different features you model, including:
i) Emotive language / rhetorical questions ('Do you fear that your expedition will end in tragedy?', 'Are you concerned for the safety of your crew?')
ii) Exaggeration ('Polaris is the strongest ship ever built.')
iii) Cause-and-effect connectives ('If you purchase this ship, then you can be certain of success')
iv) Mixing fact and opinion (Its joints are cross-braced for extra strength. We think it is one of the best-designed ships currently available.')
v) Using modal verbs ('Experts agree this could be the ship to save you.')
vi) Use second-person perspective to address the reader ('You will not regret your choice.')
vii) Imperative verbs instructing the potential purchaser ('Act now to avoiding missing out on this exceptional vessel.')
A dog's life
Shackleton rigorous recruitment policy also extended to dogs, with 69 chosen for their strength, thick coats and good temperament. Each dog was given a name, some after famous people such as Amundsen and Shakespeare, while others had less salubrious monikers such as Slippery Neck and Slobbers!
These dogs formed an integral part of the crew, not just in terms of the workload, but in the morale they generated – each crew member was assigned at least one dog to care for. The children will write in role as one of the dogs about their experiences on-board, and how their lives changed when Endurance became trapped by the ice. Original footage and photographs from the expedition form a really helpful resource at this point – expedition photographer Frank Hurley was particularly attached to the dogs. This YouTube clip includes lots of focus on the canine companions, both on-board and out on the ice.
While the men felt exhausted and beaten when they had to concede that the Endurance was trapped for the winter, the dogs were overjoyed to be off the boat exploring the polar conditions. Igloos were built out of wood and snow to act as kennels in what became known as 'Dog Town'.
Diary entries should have a simple structure – an introduction that sets the scene answering the questions 'who?', 'what?', 'where?', 'when?' and 'why?'. Then, there are a series of paragraphs organised in chronological order, including details that are amusing, interesting, exciting or significant to grab the reader. The conclusion comments on what had happened, or says something about how those involved felt. The challenge here is being able to think in role, so preparation activities such as hot-seating in character will be key to a successful piece of writing.
A word of warning, this piece should be attempted early in the study of the expedition, as after surviving on relatively stable ice for six months, Shackleton was forced to make plans for the crew to travel to land in boats. Sadly, there wasn't sufficient room to transport the remaining dogs and the decision was taken to have them shot.
Go with the flow
Having survived an extremely treacherous journey in small boats, the crew landed on the uninhabited Elephant Island. Although this meant they were safe from the inconsistencies of the ice, there was little hope of rescue and the challenges of survival in such an inhospitable region were now taking their toll on the condition and morale of the men. Faced with this, Shackleton decided that a smaller group (himself and five others) should continue on, attempting a journey of over 800 miles to reach civilisation on the island of South Georgia.
The difficulties this group had to overcome are ideal for forming the basis for an adventure story. Prepare a simplified map, showing the area from Elephant Island to the intended destination – Stromness Whaling Station (you will find Grill's own illustration helpful in this) marking a route between the two. Annotate the map with challenges: a violent storm at sea; getting lost in the mist; 15-foot icicles; mountains covered with loose rock and ice; fields of thick snow; deep crevasses.
Establish that adventure stories include obstacles to be overcome, and as a class come up with methods for dealing with each problem. Children can then select from these solutions, annotating their map to plan their own story. Use extracts from adventure stories to model key features including opening with either action, dialogue or both, using description to contribute to the building of tension, and a climax where the main characters overcome the many great difficulties to reach safety.
Head cold
Shackleton took looking after his crew's mental health very seriously, re-creating a sense of social domesticity both on-board and when setting up the camps. Explain to your class that they have been chosen to live in a completely uninhabited part of the world. Since they are to set up a new community there, they are to take with them all the things they need to live. You will allow them only 20 items to take with them. Give pairs 20 blank cards and ask them to write one thing they will take on each card.
Once they have completed this, announce that it has been found that actually there is not enough room to take all 20 things, and that they must reduce their list to 12 items. Once they've done that, pairs now join up with another duo to compare their lists. Inform these groups of four that they must narrow their new joint lists to 10 items they all agree on.
Follow-up the task with a class discussion: Which items were most commonly eliminated and why? What is the difference between want and need? Are everyone's wants and needs the same? Use this work to lead into study of the UN Convention on the Rights of the Child (Unicef has produced some good teaching resources to support this).
Let it snow
Having reached Stromness Whaling Station, Shackleton's first concern was to return to Whale Island and rescue the remainder of the crew and he was loaned a steam-powered ship to make the journey back through the ice. Unbelievably, and against all the odds, Shackleton's expedition had ended without the loss of a single man. Following the rescue of the remaining crew, they docked in Chile and received a hero's welcome, with over 30,000 people cheering their return.
In class, celebrate the ending of your own expedition by throwing an Antarctic-themed party. Decorate the classroom together by making icicle bunting and snowflake mobiles; plan and make an Antarctic-themed menu, and if the weather doesn't get the memo you could even make your own snow by combining baking soda with shaving foam and slowly mixing the two together until you are left with fantastic moldable snow. Although perhaps this bit of the party should take place outside – we all know the first thing children make when they see snow; better be ready to duck!
---
Independent explorers
Extend the expedition with some Antarctic-related homework opportunities
Igloo Design
Look at this film of a real igloo being built then ask children to build their own model igloo. Examples can be found online using a range of material from the tiny sugar cube igloo, to the life-size milk jug igloo!
Creatures of the Antarctic
Give each children the challenge of independently researching creatures such as the sea leopard and the killer whale that Shackleton might have encountered on his expedition, and use this to prepare an Antarctic Explorer Spotters' Guide.
---
Clare Pearson is deputy headteacher at Summerbank Primary School in Stoke. Previously, Clare was the Primary Advisory English Teacher for Stoke-on-Trent.