Worksheets, activity ideas and extracts
Shackleton's Journey is a mesmerising non-fiction picture book by William Grill that focuses on themes of courage and endurance, as well as going into detail about the lives of Shackleton's crew and the thrilling elements of the expedition.
This download pack contains a three-page PDF featuring cross-curricular classroom activity ideas, including writing persuasive letters, model building, science experiments and learning about the rigours of Shackleton's mission and the perils of the freezing climate.
This Shackleton's Journey download contains:
Three-page PDF featuring classroom activities
Five worksheets to use in class
PDF book extracts
PDF of Ernest Shackleton facts
Ernest Shackleton facts
Sir Ernest Henry Shackleton was born on the 15th February 1874 in Kilkea, Ireland.
His children were called Raymond, Cecily and Edward.
He served in the Royal Navy and the British Army.
His first Antarctic expedition took place in 1901, led by Robert Falcon Scott. Shackleton become ill and had to return home without reaching the South Pole.
He married Emily Dorman in 1904.
In 1906 Shackleton returned to the Antarctic on the ship Nimrod.
In 1914 Shackleton made his third trip to the Antarctic on the ship Endurance. The ship got stuck in the ice and Shackleton, along with five crew members, rowed 1,300km to South Georgia to seek help.
Shackleton died on the 5th January 1922, aged 47, in South Georgia.
Clare Pearson is deputy headteacher at Summerbank Primary School in Stoke. Previously, Clare was the Primary Advisory English Teacher for Stoke-on-Trent.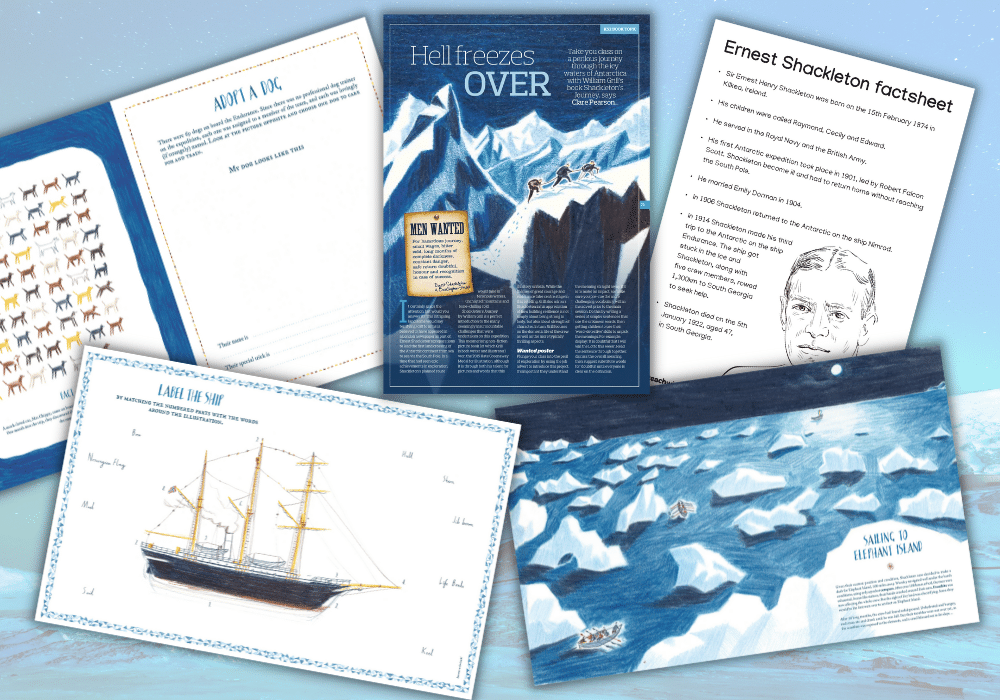 DOWNLOAD A FREE RESOURCE!
Shackleton's Journey – KS2 book topic planning