Five-page PDF containing medium term plan
This three-week non chronological report KS1 sequence is a sample resource from BookWrites (formerly No Nonsense Literacy. The key learning outcome is to write a non-chronological report about an animal of interest. It uses the non-fiction book Penguins by Emily Bone.
Non chronological report KS1 plan
In this plan you'll use an object that interests pupils, such as a toy car, and talk about its features. What it is made of? Who might use it and why? Pupils will then write a report about the object, to include a diagram.
This sequence covers reading, writing, grammar and spoken language.
If you're looking for a non chronological report KS2 resource, try this free unicorns lesson plan from Pie Corbett.
---
BookWrites (formerly No Nonsense Literacy) is an online programme combining teaching sequences for writing with assessment support and guidance for all your planning and assessment needs.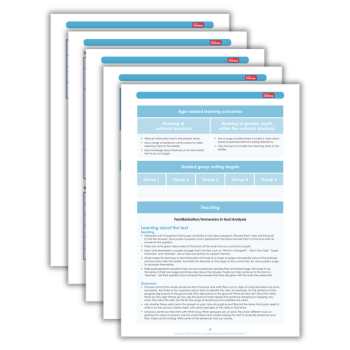 DOWNLOAD A FREE RESOURCE!
Non chronological report KS1 – Year 2 medium term plan