PDF lesson plan, worksheet and slides
Create a buzz around history in this Ancient Maya KS2 enquiry-based detective lesson. This can be adapted across the history curriculum.
Your pupils will have the opportunity to discover, predict and conclude historical learning. They'll carry out an investigation as detectives, piecing together clues from sources.
The lesson supports children to retrieve prior KS2 history learning to justify their predictions. It also encourages them to work in-role using skills of exploration, investigation, analysis, and evaluation.
They'll then discover the 'truth' to embed their historical knowledge.
This lesson's principles apply to multiple historical contexts. In this worked example, we focus on the Ancient Maya KS2 curriculum, finding out more about Mayan beliefs. 
Use this lesson plan, worksheet and PowerPoint to help your pupils work through the process of gathering evidence, investigating sources, and discussing outcomes.
What they'll learn
To draw on their prior learning in KS2 history
Analyse, unpick and draw conclusions from historical sources
Reflect on a range of historical possibilities
About the skills which underpin historical enquiry
About the beliefs and behaviours of another culture and/or era
KS2 history useful questions
How reliable is the source?
Is there another plausible explanation?
Do the carvings/images remind you of anything?
Do you notice any patterns of trends in the evidence?
Adam Jevons-Newman is a deputy headteacher and curriculum leader at a school in Nottinghamshire. Browse more Mayans KS2 resources.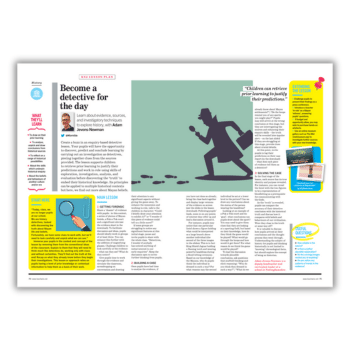 DOWNLOAD A FREE RESOURCE!
Ancient Maya KS2 – History lesson plan