Art is a great way to express emotions and tell a story. Through teaching children about Black artists and the stories they tell, we can help them appreciate the beauty, resilience, and strength of the Black community, especially during Black History Month.
In this Black History Month art session for KS2, we will look at the life and work of Jean-Michel Basquiat, arguably the most influential Black artist of all time.
Basquiat told stories of his experiences through his paintings and continues to inspire people today. Children can access his art because it feels familiar, as his drawing style is very childlike, and his work has a sense of freedom.
What they'll learn
About the life of Jean-Michel Basquiat
To draw from observation and imagination
How to practise abstract techniques
To experiment using a range of materials
To describe and evaluate art
Black History Month art starter activity
Prepare for the lesson by creating a slideshow about Jean-Michel Basquiat. Find a lot of info at Art History Kids. Try and include facts about his life, key questions and pictures of his work, including his collaboration with Andy Warhol.
This will help to show his art from a different perspective than his solo output.
You could also read the Little People, Big Dreams book about Jean-Michel Basquiat by Maria Isabel Sanchez Vegara with your class.
Gather a range of materials including oil pastels, crayons, acrylic paint, watercolours, marker pens and colouring pencils, ready to get creating. It is important to give children different options so they can experiment and see what materials work best for them.
National curriculum art KS2
The national curriculum for art KS2 states that pupils should be taught to:
develop their techniques, including their control and their use of materials, with creativity, experimentation and an increasing awareness of different kinds of art, craft and design;
create sketch books to record their observations and use them to review and revisit ideas;
improve their mastery of art and design techniques, including drawing, painting and sculpture with a range of materials [for example, pencil, charcoal, paint, clay];
understand great artists, architects and designers in history.
Use this lesson plan to help pupils develop their materials techniques, and engage with Black History month at the same time.
Kezia McInroy is an artist in residence at St Jude's C of E Primary School in South East London. She is also a freelance illustrator specialising in portraits. See more of her work at planetkez.com. Browse more Black History Month activities.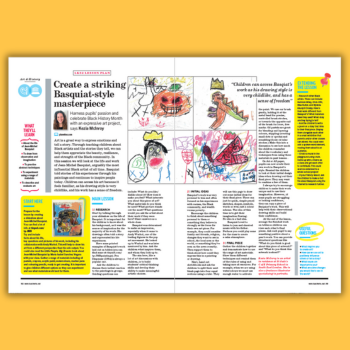 DOWNLOAD A FREE RESOURCE!
Black History Month art – Basquiat KS2 lesson plan