Fighting back against the pandemic to increase the activity levels of pupils following the effects of Covid-19 has been a top priority for almost every school over the past 18 months.
Here, Dan Smith at Manchester Road Primary Academy, talks about the ways his school used tennis and the free resources from LTA Youth Schools to boost activity levels, while inspiring pupils to explore new sports, pick up a racket and play tennis.
---
Having always taught tennis as part of our curriculum, at Manchester Road Primary Academy we're always looking for new ideas to help keep our lessons fresh and up-to-date.
After our Schools Games Organiser informed all our schools about the opportunity to sign up for the LTA Youth Schools programme, naturally we were really excited to find out more and get started.
We emphasise the importance of getting our children to try different sports in school, in the hope that it sparks their enthusiasm to carry on playing after school hours.
As LTA Youth Schools comes from the national governing body of tennis, we had no doubt it would be of benefit to us.
Specially designed to support the curriculum and wider school outcomes, the resources are also completely free.
While PE has always been an important part of the school curriculum, given so many children were inactive during the nationwide lockdown it's now even more important than ever to instill in our pupils the importance of exercise.
PE plays a key role in teaching transferable skills needed to play different sports and developing basic movements that are needed to function in everyday life.
Aside from the numerous health benefits, it also helps to develop resilience, empathy, confidence, and social skills – which are all vital for good mental health.
We were pleased to see the LTA Youth Schools Programme has a specific strand focused on these soft skills, enabling pupils to develop key character qualities through assemblies and classroom-based challenges.
Not only have we received amazing training through the LTA Youth School free online course, but the varied resources have been brilliant, and we will continue to use them for years to come.
Access to the website provides engaging video examples of how to teach each task to your pupils, accompanied by a plentiful resource book that complements the website offering.
It's a bonus that, unlike any other training course, we were also given a £250 voucher, so we were able to buy all the necessary equipment needed for the lessons.
This is a brilliant move from the LTA to demonstrate their dedication to helping children develop their tennis skills.
It's given students the unique opportunity to play, move and learn with their friends, all at the same time.
As the LTA Youth Schools programme is aimed at children from Year 1 through to 6 it can be used throughout the school.
Broken down into easy-to-follow schemes of work, the free resource pack is perfect for those who might not feel confident in teaching PE.
Specially designed to support the curriculum and wider school outcomes, there's no excuse for pupils not to start swinging a racket.
Being lucky enough to play myself growing up makes it even more rewarding to see our pupils engaging with tennis – a fantastic sport for children and adults alike.
Given the recent success of our homegrown star Emma Radacanu MBE, now is the time to inspire pupils to start engaging with the sport.
With just a racket, ball and a friend needed to get started, it really is a sport for everyone.
Thank you, LTA Youth Schools, for inspiring the next generation of superstar tennis players!
---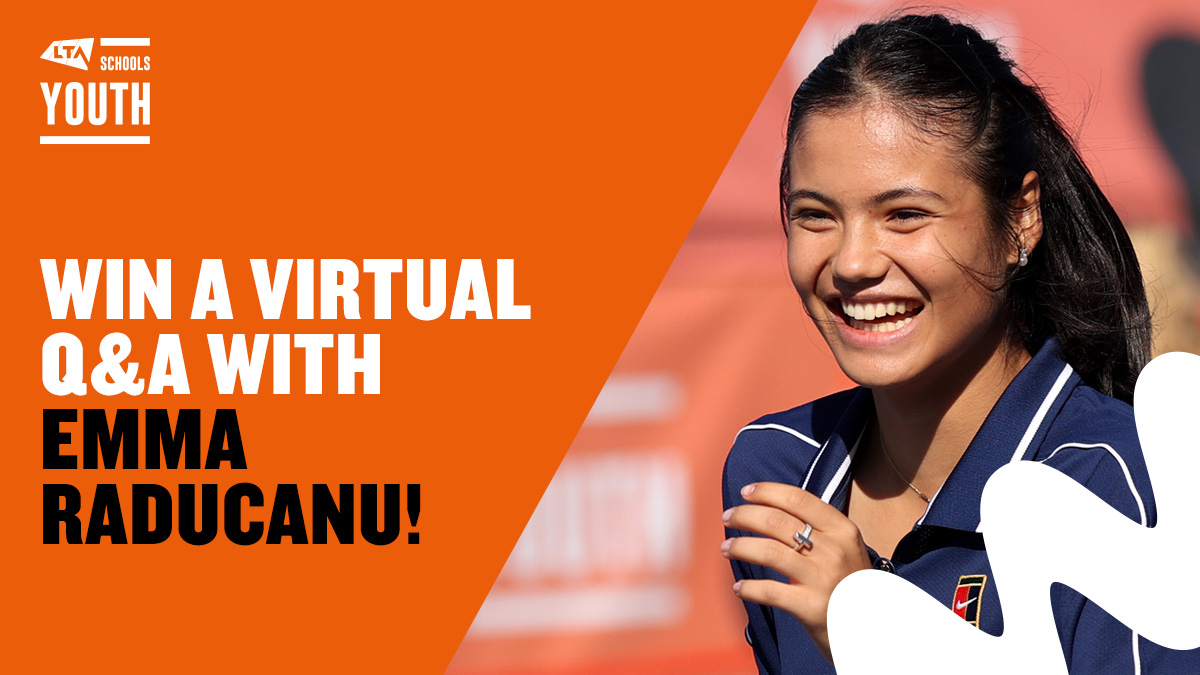 The well established and popular cross-curricular primary resources from LTA Youth Schools are packed full of exciting activities to help encourage children and young people to stay active and have fun picking up a racket.
To help with inspiring pupils, the LTA is currently offering teachers a once-in-a-lifetime opportunity that could see teenage sensation, Emma Raducanu MBE, appear virtually in your very own classroom for a Q&A.
To be entered into the prize draw to win a virtual Q&A for your school with the US Open champion and BBC Sports Personality of the Year, teachers need to simply register for a free, online teacher training course and complete training before 13th May 2022.
On completion of the course, schools will also receive a £250 voucher to spend on ten hours of team-teaching support from an LTA-accredited coach or on equipment. Win-win!
Join the active community of over 14,000 teachers and complete the free online teacher training before the 13th May 2022 and this extraordinary opportunity could be for you and your school.
This exciting new competition will help inspire the next generation of tennis players across Britain.