Use these vocabulary worksheets for your mixed-ability paired reading. One helps pupils clarify vocabulary with which they're unfamiliar, and the other provides short tasks for those children who might finish their reading-out-loud early.
See Lucy Jarvis' full explanation of how she uses these worksheets in her class to help develop pupils' reading skills here.
Lucy is an assistant headteacher, Y6 teacher and English lead at a primary school in Lincolnshire.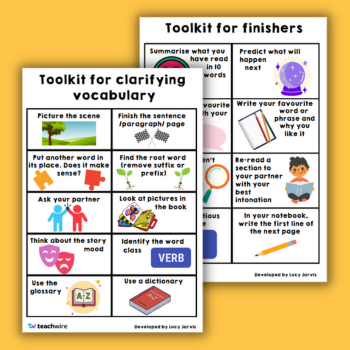 DOWNLOAD A FREE RESOURCE!
Vocabulary worksheets – Toolkit for clarifying and Toolkit for finishers