Reading spine for EYFS-Y6, plus sample reading lesson Powerpoints
In his book Reading Reconsidered, Doug Lemov says that children should have access to five types of text in order to read with confidence.
These are complex beyond a lexical level and demand more from the reader than other types of books. To fit our school's context and our pupils needs, we adapted his suggestions, enabling us to include a more diverse range of text types.
Our reading spine uses four text types:
Classic text
This involves texts that are over 50 years old and feature vocabulary and syntax that is vastly different and typically more complex than texts written today.
Non-linear time sequences
In these books, time doesn't unfold consistently. It may move in fits and starts or double back. These books need careful introduction and may need to be read more than once.
Narratively complex
These books may feature unreliable narrators, multiple narrators or non-human narrators. They may also feature multiple plot lines.
Impressionist
Poetry often features in this category. Pupils need to assemble meaning via nuances, hints, uncertainties and clues.
Teachers choose a text from the reading spine, which is a working document, and read this book every day for 15 minutes, always making sure to finish the book. On Monday and Friday, the text is studied through a quick quiz, recap questions and VIPERS questions.
Read more about how we developed a consistent whole-school approach to reading that will prepare our pupils for university here. We identified five teachers who have a real love of reading and formed a new reading group. They were eager to go away and plan lessons for each year group to deliver to staff during our September Inset day. Download examples of these lesson plan PowerPoints here.
This download contains
Reading spine, including EYFS reading list, Year 1 reading list, Year 2 reading books, Year 3 reading list, Year 4 reading list, Year 5 reading list and Year 6 reading list
Reading lesson plan PowerPoints on the following topics: Queen Victoria (Y2); the Stone Age (Y3); Roman Empire expansion (Y4); science (Y5); WW2 (Y6)
---
Claire Jones is now headteacher at Eccleston Primary School in Chorley. Follow her on Twitter at @clairejones_ht. Visit her blog at clairejonesteacher.wordpress.com.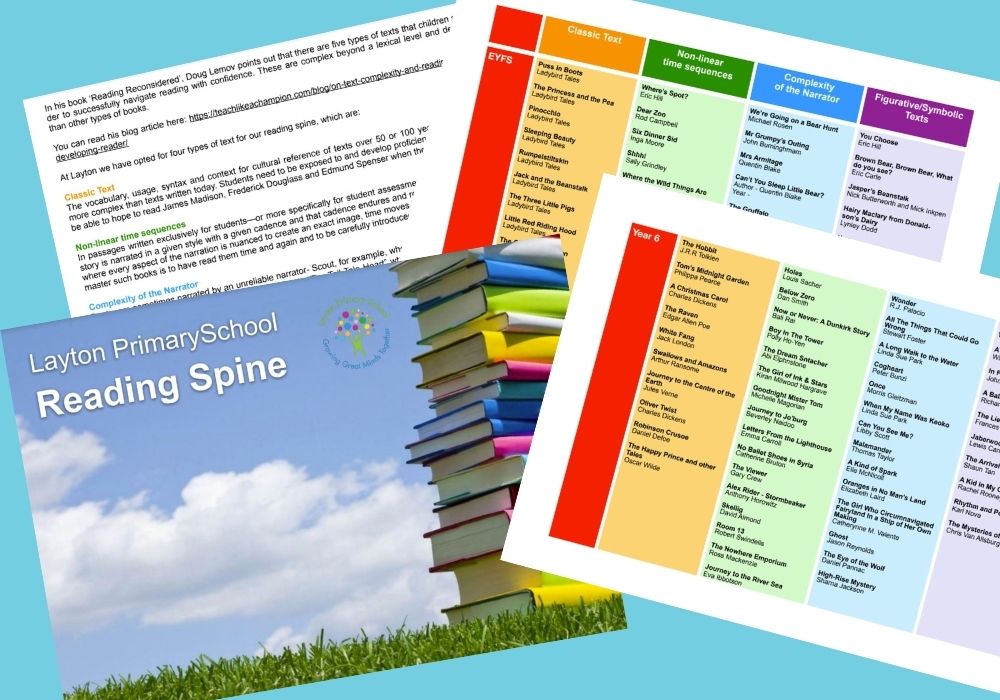 DOWNLOAD A FREE RESOURCE!
Reading spine – Doug Lemov inspired reading list and lesson plans for EYFS-Y6