Original story plus activity ideas
If you're looking for Talk for Writing model texts, you're in luck! This free resource features Pie Corbett's original and exclusive meeting story, Poppy, Waldo and the Giant, as the basis for creative writing and story structure activities.
Draw story maps and explore the tale through drama. Next focus on the grammar for writing and study the structure. Use all of this knowledge to write your own piece.
You can then create your own writing toolkit, and use the story as a springboard into non-fiction writing in various forms.
Getting started
In this 'meeting' story, two children discover a giant and even get to meet it! The model would suit any year group at Key Stage 2.
First read the story to your class, then draw story maps and use actions to retell the story as a carousel, with small groups working on different paragraphs.
Discuss any vocabulary or expressions that might present a barrier to understanding, such as 'crows cawed' or 'allotments'.
---
More Talk for Writing model texts
Browse more story story resources from Pie Corbett, including suspense stories, WW2s stories, adventure stories and more.
---
Pie Corbett is an English educational trainer, writer, author and poet who has written over 200 books. Pie has experience as a teacher, headteacher and Ofsted inspector. Follow him on Twitter at @PieCorbett.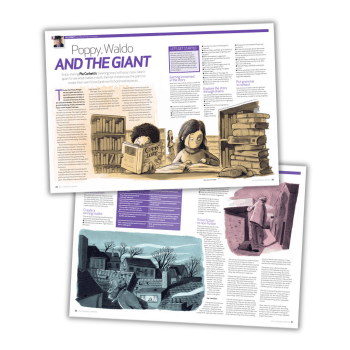 DOWNLOAD A FREE RESOURCE!
Talk for Writing model texts – Poppy, Waldo And The Giant by Pie Corbett