Every December in Trafalgar Square in central London a huge Christmas tree – 70 feet tall (over 20 metres) – is put up and covered in lovely lights.
Did you know that this tree is a gift from the city of Oslo, and that a tree has been given each year for over 65 years?
A tree was first given in 1947 as a token of gratitude for British support for Norway during the Second World War. Britain had supported the government of King Haakon VII who was exiled in London after Norway was invaded by Nazi forces in 1940.
Since then a tree is given each year from the city of Oslo to the city of Westminster as a symbol of continued thanks.
For the last eight years The Poetry Society has collaborated with the Royal Norwegian Embassy, the Office of the Mayor of Oslo and Westminster City Council to organise an exciting and unique annual poetry programme, using the Trafalgar Square Christmas tree as a focal point.
The Society commissions a poet to write a new poem each year to be displayed around the base of the tree. The poem is inspired by many hundreds of poems written by Westminster primary school children who go to school near Trafalgar Square.
This year AF Harrold is writing a new poem for the tree. He has provided worksheets for your class and an outline for his Christmas tree poem. You can use it to produce your very own poems in celebration of friendship, like the friendship between Britain and Norway that is symbolised by the Trafalgar Square tree.
Use the two exercises here to gather together some ideas before having a go at writing an AF Harrold-style poem using Exercise 3.
---
The Poetry Society is one of Britain's most dynamic arts organisations, representing British poetry both nationally and internationally. Download more of its resources here or on its website at resources.poetrysociety.org.uk.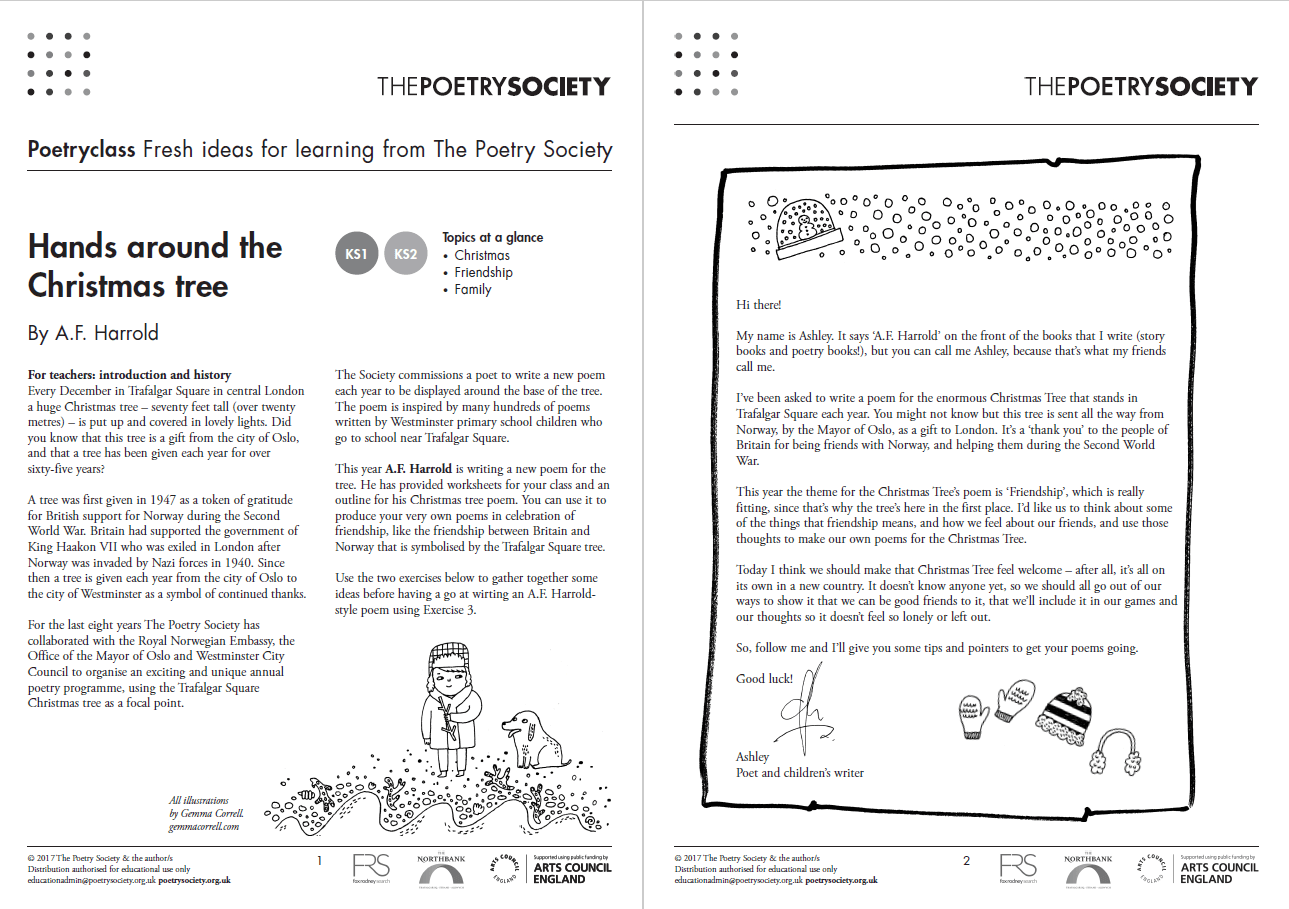 DOWNLOAD A FREE RESOURCE!
'Hands Around the Christmas Tree' by AF Harrold – Festive poetry lesson for KS1/2 English