In the Goblet of Fire, Harry Potter attends the Quidditch World Cup with the Weasleys, and becomes involved in the Triwizard Tournament at Hogwarts.
In the book's dramatic climax, Harry returns to Hogwarts with the body of his fellow competitor, Cedric Diggory, discovers the true identity of Mad Eye Moody, and delivers the ominous news that Voldemort has regained his power.
Discussion points
Inside this resource pack you'll find ten discussion points about the book – themed around understanding the text.
There are also four in-depth discussion points surrounding:
Growing up
Satirical elements
The media
S.P.E.W
Goblet of Fire project for schools
Use the ideas in this pack to design an alternative cover for Harry Potter and the Goblet of Fire. Children will practise and improve their design and craft skills and think about ways of creatively interpreting books.
Children will need to think about:
Distinguishing elements that quickly identify the storyline
Colour
Which character(s) might be on the cover and what they might be doing
Special features
Fonts and styles for the author's name and book title
More activity ideas
Character quotes
Create a mask
Character challenge
Invent some games
Visit the Bloomsbury website for more Harry Potter discussion guides and reward certificates.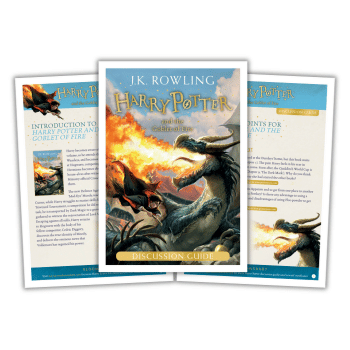 DOWNLOAD A FREE RESOURCE!
Goblet of Fire – Harry Potter 4 discussion guide and activities