This free Christmas colouring pages download contains two different sets of colouring sheets. The first features eight designs that are great for older children, and the second features nine simpler pictures, perfect for Early Years and KS1.
The designs include baubles, stockings, presents, winter house scenes and holly designs.
These colouring pages offer a creative outlet for students while also serving as a valuable teaching tool. Here's why Christmas colouring pages are a fantastic resource for schools:
Foster creativity: Colouring encourages children to express themselves creatively. It allows them to explore different colour combinations, experiment with shading and develop their artistic skills. Our Christmas-themed colouring pages provide a festive canvas for this creativity.
Fine motor skills development: Colouring requires precision and control, helping students enhance their fine motor skills. As they carefully colour within the lines and manipulate crayons or coloured pencils, they refine their hand-eye coordination.
Language skills: Use these coluoring pages to facilitate language development. Encourage pupils to describe the scenes they are colouring, identify colours and learn new vocabulary related to Christmas.
Relaxation and stress reduction: Colouring has a calming effect and can help reduce stress and anxiety. During the often hectic festive season, taking a break to colour can be a therapeutic activity for kids.
Decorative classroom: Hang children's finished artwork around your classroom, creating a joyful and welcoming environment.
Browse more Christmas activities.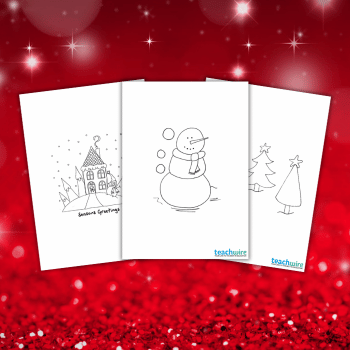 DOWNLOAD A FREE RESOURCE!
Christmas colouring pages – 17 printable sheets for schools